« February 2007 | Main | April 2007 »
March 31, 2007
The Politics of Entertainment- John Dietrich

The bottom line is simple: Theme Parks are a highly creative way of offering a guest a sometimes innovative, sometimes inspiring, and generally fun alternative entertainment experience. Yes, each of their objectives or mission statements are different based on the particular adventure they are offering, but I can guarantee you that at the outset of development and conception, the goal is creativity, exploration, education and simply trying to break new ground in entertainment experience, just as any entertainment medium does; television, film, or the theatre. And as in those industries and any industry, success is key, financial and critical. Key simply for the reasons of survival and the ability for further creative growth and development. Never, in my work, have I run across or heard of a situation where developers in Theme Park attractions have been driven by the sole purpose of making money as the primary objective. Nor have I ever seen the primary mission of a Theme Park driven by demographics or the desire to reach a "particular" social class as implied in Susan B. Davis's book. I actually found some of her statements incredibly misguided: "Although other Theme Parks in California use dress codes and profiles to discourage the presence of "gang members", to my knowledge the people who run Sea World do not do only anything active to keep ethnic minorities out of the Park". I would put that under the heading of racially offensive statements. Also: "In the end, it is hard to show how or whether the general economic standing and class makeup of Sea World's audience is an artifact of the park industry's search for an affluent audience, or whether nature is a commodity with special, important meanings for white people." Why this road is being gone down, is due to lack of true understanding of this industry or the industries history. "It is possible that the version of nature marketed by Sea World appeals positively to white people as part of being appropriately white and middle class." Once a theme park finds its audience it certainly does look at demographic numbers to determine two things: how to maintain and satisfy its' current core customer and how to reach out to a wider audience. And that is the basic goal behind any forum of entertainment or cultural experience.
Disneyland was not created for the purpose of mass marketing the Disney film archives or mass merchandising the Disney product. Walt Disney was a lover of locomotive trains and he used to take his young daughter to a park near his home in Glendale, California that had a miniature train ride for children. All of the parents would sit on benches and watch the children go round and round. His thought was, why can there not be a place where children and parents can experience these types of pleasures together, different types of adventure, enjoyment and experiences that drive the imagination? An experience for ALL ages.
To all who come to this happy place – welcome. Disneyland is your land. Here age relives fond memories of the past and here youth may savor the challenge and promise of the future. Disneyland is dedicated to the ideas, dreams and the hard facts that have created America… with the hope that it will be a source of joy and inspiration to all the world. "
— Walter E. Disney, July 17, 1955
Sea World apparently did have an identity struggle in its' early development and seemed to shape its' role and style over many years of trial and error. It didn't know what it wanted to be, educational, fantastical, historical, and as is the case with a number of the other Theme Park chains, its' character and objective would evolve and often be redirected with change of ownership. Though Davis at times seems to mock Sea World's mantra of needing to exhibit a "universal appeal", this is probably the exact distinction between profit and non-profit. Any attraction, be it museum, historical site or theme park has a desire to broaden its' audience base, but a non-profit has a greater freedom to say "this is what we are" and probably not everyone will be interested in it. Where in profit, survival is based on having EVERYONE interested in it. And when that happens, the definition of who you are suddenly has to become that much broader. Much of Davis's study and research does reflect the state of the theme park industry and a commonly held perspective on how to be successful and appealing in this business. Generally it is a "pleasure and entertainment" industry that can be directly tied to the notion of escapism, leisure and a "vacation" role, it is when it goes beyond that, and attempts to delve into education and a higher stream of culture that the industry is able to catch its audience off-guard and begin to redefine the function of the theme park for the twenty-first century.

Posted by John Dietrich at 11:47 PM | Comments (0)
Sea World and Utopian Visions
Theme parks such as Sea World disrupt the everyday experience and project the customer towards other places/times otherwise inaccessible. Davis' book made me think of why counter-hegemonic movements don't have theme parks. I am not advocating this, but posing it speculatively: what if there were theme parks where we could visit a vision of the future that took "Another world is possible" to the next level? What if the World Social Forums had a permanent, physical space, instead of an underfunded itinerant stage peopled mostly by activists?
I know the first thought is that progressive and advocacy movements almost inevitably lose their revolutionary character when they become institutions. I'm thinking particularly of socialist television in places such as Cuba. Even my most staunchly pro-Cuban friends squirm at its scholastic, repetitive tone and content.
If accessible, public social spaces are traded for suburban theme park experiences, how could "street culture" be regained or strengthened? I'm sure there are plenty of "expos" on sustainability (and hip-hop for that matter), but no popular expression of this scale comes to mind when thinking of theme parks. What would a t-shirt cost in a sweatshop-free world? Will plastic folks one day be exhibited in museums as an expression of a wasteful, unselfconscious consumer society? What is it exactly that we would have to give up if third world debt ceased to exist?
Certainly the corporate world capitalizes on humanitarian concerns, offering certain products that sell themselves as evironmentally safe, not animal-tested, or contribute to aiding some "developing" nation with famine (in an unspecified way). Help someone by consuming THIS! But there are also events like Earth Day (?) that can also be crtically approached and potentially political, though increasingly institutional.
If the destruction of the (underwater) Nature we are so spectacularly shown at Sea World were also put "en-scéne" (staged) critically we could actually see comparative snapshots of the ocean as it becomes depleted of its flora and fauna. This could actually spread some less "lite" education, and serve the public seeking education on marine conservation.
There is an exhibition called Amazonia Brazil that has produced a huge traveling exhibition that recreates a part of the Amazon rainforest. It asks you questions as you move through it, so that you end up in an environment that gives you a visual estimate of how much your everyday commute contributes to the devastation of the Amazon's resources. Though reminiscent of the worlds fair exhibtion techniques of spatial recreation, I am excited to see what audience attendance and reception will be. (I'll keep you all posted since it should be coming to NYC soon.)

Posted by Amalia Cordova at 11:12 PM | Comments (0)
on Davis
For-profit or non-profit, the tourist production is also a cultural reproduction as well as cultural capital (Bourdieu). The Colonial Williamsburg or Lower East Side Tenement Museum tries to establish new culture discourses of the United States while Sea World itself becomes part of the theme park culture in the U.S. Nevertheless, they have different targets of audience and thus different strategies in running the organization. In brief, the non-profit institution has a limited and well-educated audience who went there for specific purposes concerning their historical and cultural identity. For-profit tourist attraction, like Sea World, whose aim is to make as much money as possible, has every one in the world as its target audience.
Sea World claimed its performance "universal" for any one to go, and the family is the best target. The parents paid the tickets, foods, and souvenirs for themselves and for the kids. For profits and kids, Sea World excludes "heavy thinking" (164) and any possible "sexual references" (163) in its performances. All its energy is used in organizing its relationship with the guests, keeping them around the park as long as possible and driving them to consume the more the better. It claimed to serve the purpose of education, but as what Davis mentioned in her Spectacular Nature, the "education" is limited in Sea World. The education is more like to impose the cultural capital upon the children rather than teach the children what nature is.
From the theme park in general to Sea World to the Shamu Show, Davis brought her readers to the back region of Sea World step by step. But I still want to know more about how such cultural capital or education work differently on the staff of the theme park, on the parents, and on the children. Why do the parents bring their kids to theme parks? Is it out of a limited choice of family entertainment or out of convention like seeing the children's play? Can the adults find the "kid inside" at all? What's the children's relation to the artificial nature? For what purposes are we preserving the nature in the museum and theme park? What's our relation to the displayed animals?
Tourists go around the world to search for authenticity, but there are always places they were unable to reach because of financial problem or any other reasons. But the animal theme park or the zoo brings the world/nature to people in a local exhibition space. It saves people's money and time to know the world at any rate, though the world is manipulated and the knowledge partial and shallow.

Posted by Chia-fen Chang at 10:41 PM | Comments (0)
Sea World on Nico
« Sea World »- just the title is indicative of a sort of all encompassing attitude. It makes me think of the "World Series" in Baseball where somehow the team that wins is the World champion although only American teams have competed. It also reminds me of our previous discussions on "World Music", another all-encompassing exotic other. The use of "World" in these cases simplifies and packages complexity into a homogenous whole and simultaneously claims a universal authority.

Of particular interest to me is how "Sea World" straddles the line between private and public: a for-profit machine selling itself as protector of nature for the public. The perverse effect is that embodied in this role their have legitimacy in terms of education, although it is an education sold within a profit-making agenda. This feeds in directly into the increasing privatization of public life that we experience in this country. Davis mentions healthcare and education now as public services with the goal of making a profit rather than providing a service to the people. It is inscribed into a neo-liberal rhetoric of small government that believes that private ownership can be more fruitful than government. If it is profitable, it can then supposedly reach more people. The main problem is that in this frame of mind, people are a market as opposed to citizens. Our society becomes completely customer-driven and each person is seen either as a potential consumer or a potential risk. It is that same mentality that brings us corporate security cameras everywhere- potential consumer, or potential risk. So Sea World is a smart concept because they are a business first and foremost, but they set themselves apart by giving us the very nature that has been taken away through privatization. They totally play on the "feel good" factor and that is where the threat is. "Beware of the feel-good factor" I tell my friends all the time but nobody takes me seriously!
Nature is brought to us on a plate, into "a realm we can understand" .The wonder is there, packaged and readily available so that we do not have to waste time trying to find the wonder on our own. The only way we can reclaim public space for good is to make a conscious choice to look for beauty in the everyday. Corporations can get very close to controlling our lives, but we still have power over deciding what beauty can be.

Posted by Nicolas Daswani at 06:54 PM | Comments (0)
"showing and knowing"
With three "adventure parks" around the country- Orlando, San Diego, San Antonio- Sea World has carefully crafted its ways of "showing and knowing" nature, and Susan Davis's book Spectacular Nature thoughtfully illuminates and carefully critiques these ways.
As we progress from week to week, I am always shocked by how much of my life speaks to the topics and sites we discuss. Growing up with a year-round pass to Sea World Orlando, I have numerous memories of the park as it (and I) changed over the years. For many of my formative years Sea World was responsible for what was 'shown' to me and 'known' by me, as every Science teacher I had during grade school took us to Sea World at one point or another, and I remember during one of those trips, around the age of 10, I decided I wanted to be a Marine Biologist so that I could swim with Shamu! It was an innocent and youthful fascination, long before my days of comprehending corporate structure and animal exploitation, and reading this book has both deepened and disturbed my understanding.

Loved by parents, teachers, and children, Sea World is a built in learning experience—a no-brainer educational site; thus, I was particularly intrigued by Davis's treatment of the educational marketing of the park in chapter 4, "Enlightenment Lite: The Theme Park Classroom." One important point Davis makes is the fact that Sea World is first and formost a money making machine, but it masks its true motives with earnest educational concerns and pursuits. "The theme park education that works its way into the life of the school and the family is so carefully crafted to meet Sea World's marketing and publicity needs that the union between spectacle and education is a lopsided one." (118) Rarely (if at all), are decisions based on the interest of the consumer, but rather with a focus on corporate profit. "The education Sea World produces is closely tied to its spectacular entertainments and always harnessed to the goal of expanding profits." (127) Davis cites the location of "Kodak moments" throughout the theme park, and I recall many pictures of my childhood taken in those spots. I find this to be a brilliant marketing tactic, as these sites situate the visitor in the advertisement that attracted them in the first place, and sends them home with manufactured memories to share with family and friends.
Show me the money!... After perusing the Sea World website, I am not only shocked by the excessive marketing of the Shamu show "BELIEVE" (she has her own website), but also by the gross expense it costs visitors to get into the park. Sea World is now $65 for admission, but what I find most alarming is how much it costs to interact directly with its "spectacular nature" at Discovery Cove, a manufactured beach experience where guests get the opportunity to "swim with dolphis, snorkel with rays, and relax on pristine beaches". If you pay for an "all-inclusive Summer evening package, Twilight Discovery" you are able to "explore Discovery cove with sunset interactions." Unbelievable… Not only have they commodified Marine life, but also the sunset! Moreover, check out the price tag: "pricing starts at $249 for dolphin admission and $149 for non-dolphin admission." Apparently, dolphins are worth a hundred dollar mark up. Also, it pays to be a resident of Florida because you can get a yearly pass for the price an out-of-towner pays for one-day admission.

As Davis cites, there are gaps between what is 'shown' that we can't see and what is 'known' that they don't tell us. (12) The mediated educational "adventure" of Sea World is a perfect example of the front/back model Goffman describes. Preported as a "hands on" experience, it is actually anything but, as they are only "showing and knowing" their scripted version of nature.

Posted by Jamie Reynolds at 05:48 PM | Comments (0)
Response on the Shamu performance and gender
Susan Davis's "Spectacular Nature" provides multidirectional viewpoints which include urban planning, labor, education, entertainment and gender of the Sea World theme park. I am interested in her discussion of gender and the Shamu performance.
Davis writes, "Women have been given a heightened presence in all parts of the show, and some traditional notions of gender differences—that women are less competent and authorities than men—have been ostentatiously overthrown. But underneath these changes, the structure of the performance remains fairly constant, as do its sometimes contradictory and enigmatic ideas." (213) Furthermore, Davis continues to figure out that "But while the Shamus show's emphasis in stereotypically female human traits fits with and extends the logic of familiar cultural narratives, it is also an attempt to address the woman in the audience . . . As the Shamu show invokes the supposedly feminine qualities of feeling, as it takes up the stereotypically female concerns with family, care, and the nurturance, so the show has gradually over the years made more room for the female trainers" (224). By these two citations, Davis' analysis is based on the traditional gender stereotype which men and women are definitely categorized in different job duties. However, I am thinking about that Davis' viewpoints lack the concern of the gender differences of spectatorship.
For me, Davis' analysis still classifies that the stereotype of men and women are in a traditional gender difference category. It seems that education, childcare and family entertainments still belong to women's "natural" duties. Although in the Shamu performance, they gradually increase the percentages of women trainers' performance with the Shamu. But what they evoke is less masculinity and more feminity in the Shamus performance in order to create an atmosphere of whole-family-entertainment. Therefore, the notions of gender difference of Shamu performance seems not be deconstructed but restructured.
By the way, we can watch the Shamu from the web cam. Go to Shamu.com http://www.shamu.com/, and click the "watch the Shamu cam", then you can see the Shamu.

Posted by Ching-Yao Luo at 05:46 PM | Comments (0)
Response on Davis
The notion(s) of performance that might be useful for analyzing such animal displays brings up front politics of animal as in performance the audience, and performer politics are well thought
The notion(s) of performance that might be useful for analyzing such animal displays brings up front politics of animal as in performance the audience, and performer politics are well thought. In chapter 5, Davis expresses how people have to keep up the beat of their work in an enthusiastic way. How is this required from the animals? How do they keep up the beat of 4 to 6 show per day? This as in performances brings questions related to politics and the importance of the profit over the human condition, as well as the animals. The corporation having need to control the process of the experience in the Theme Park such as Sea World enables a series of extraordinary need from those involved. Lower east Tenement Museum represents a different interest from Sea World's as far as they are plan in different scale and with different mission in and out the corporation. Both as interested in continuing different types of educational and entertainment project as they are constantly challenge by the tourists that brings new ideas to be incorporated. Davis shows Sea World as a corporation interested in updating their approaches to their visitors in order to increase their profits, but Tenement Museum show an interest in maintaining history to be shared from generation to generation. They have as much things that differentiates from each other as they have several things in common.
Posted by Nohemi at 04:52 PM | Comments (0)
Beatrice- On Sea World
Sea World's productions change continuously according to customer demand, sustaining the ultimate capitalist model and exemplifying the clever superficiality of a consumerist society. I found Susan Davis' work particularly illuminating in regards to the ability of corporate institutions to control environments and respond quickly to changes that might threaten their income.

In her "Spectacular Nature: Corporate Culture and the Sea World Experience," Davis spends a lot of time talking about the practice behind training the animal stars at Sea World. Interestingly, the training of the animals constantly produces feedback for the humans, as they learn from each interaction with the animals, whether it be play time, a performance, training time, etc. The feedback loop of animals and trainers reminded me of the larger feedback loop between Sea World as a corporation and its customers. In particular, I thought of the management's own constant revision, such as in the lines used in performances, or in Sea World's look and performance themes. Sea World's capacity to adapt to changing customer demands is something available only to an institution without a strong moral or ethical position in regards to the issues it deals with. Clothing animals is considered humiliating by the public? Away with the clothes and accessories! But why were they put there in the first place? Because at that point, they had an appeal to the customers. Sea World provides something of a mirror to current popular views, but never takes the initiative to introduce challenging or complex ideas. As a corporation, it has a parasitic relationship to the culture in which it lives, its own survival depending on how well it can accommodate to the needs emerging in the "customer body". Like the animal performers, Sea World's performance is positively reinforced when it behaves well, by the numbers and statistics on which it depends. Unlike the animals, however, a mistake in Sea World's corporate behavior will result in punishment as a decrease in profit.
And what about the customers/visitors? They play their part in reinforcing corporate behavior. Customer behavior itself becomes a way through which Sea World learns how to better behave itself. Depending on complaints, public attacks, (such as those by animal rights activists) or the popularity of a particular show, Sea World is able to keep remodeling itself. Furthermore, in coming to Sea World, visitors buy into the production of smoothness and organization created by the institution. Visitors are buying the performance and good behavior of the park, as shown by the management's focus on choreographing space and movement in order for everything to run seamlessly.
The feedback loop between corporation and customer also works in the other direction. That is, not only does Sea World learn to behave itself to keep costumers coming, but it actively creates a market for itself through education. Sea World's influence on education creates a very particular definition of freedom and choice, reminiscent of the way in which animals' "freedom of choice" is described by the management. While we are told that animals always have the choice not to perform, ultimately the animals are constrained to the swimming pools. Freedom is defined relatively to the Sea World closed system. Similarly, while it is true that schools should not necessarily relay on Sea World as an education resource, the economic restraints that teachers and students are faced with limit their choice range. As a result, Sea World's free educational packages and "Shamu TV" become better alternatives than no alternative at all. Additionally, Sea World's educational investment creates future customers who will remain dependent on Sea World's factual knowledge and performance of responsibility for their own relationship to the environment and, specifically, the marine world. (By "performance of responsibility", I mean the front of research and love for the environment that Sea World presents to its customers, while additionally offering it as an indirect bonus for attending the park: "Just being here means you care!") In other words, freedom is defined by a relationship of dependency between customer and corporation, reinforced by economic necessity and the drive to profit.
As Susan Davis notes, at Sea World nature's "universal appeal" is turned into a "machine for mass consumption," (Davis 30) where everything is based on appearance and control of the customer's experience. Ironically, Susan Davis herself has had to attend many shows and visit the park regularly in order to make sense of the Sea World production, participating in Sew World's profit making process. And while Davis' work exposes the complexity behind Sea World's apparent smoothness and direct connection with nature, the institution's skill at simplifying or ignoring complex readings that might pose a threat leaves me a little discouraged. Similarly to how Sea World has been able to respond to attacks from animal rights activists, I am afraid they would be able to develop a good catch phrase to respond to the complex analysis offered by Davis, or a way to ignore her questions through inarticulate answers. In fact, Sea World is not interested in complexity. And, supposedly, neither are its visitors, expected to "check their brains out at the door." (164) And even if a couple of visitors might express frustration with the content of Sea World's material, do they matter in the numbers and statistics that train the corporation's behavior? As long as it can create a market for the institution, Sea World has no moral obligations towards ameliorating its message or presenting a more complex perspective on the marine world. This is its "free will," Sea World's freedom to do as it pleases, as long as it's making a profit.
Ultimately, where can the corporate feedback loop be interrupted? Whose responsibility is it to intervene on a market economy that increasingly interferes with education in order to sustain a consumer body? And what can non-profits do when faced with such competitive attractions? These are important questions for imagining a more socially responsible society, especially within the context of a tourist industry which increasingly defines social behavioral patterns.

Posted by Beatrice Barbareschi at 10:58 AM | Comments (0)
Suspending Our Learned Disbelief...
Dori Lubliner
Tourist Productions Blog Entry #8
March 31, 2007
Having grown up visiting places just like Sea World in California such as Marine World in the Bay Area, it is interesting to think about how the commodification of marine life laid out for our visual pleasure is so much a part of childhood for many American children. Like Susan Davis points out, the spectacle of the whale and dolphin shows was always entrancing and seemingly educational; however, I can remember that even as a young child, I didn't understand how and why these creatures could be in a place like Marine World. The whole educational system these places have revolves around very superficial explanations (mainly geared toward young people) which is why training becomes so dominant in the narrations, as Davis describes. It makes sense that instead of giving the audience more profound information about the animals and more importantly about the preservation of the oceans, places like Sea World put together a sort of "marine life for dummies" program. All the employees have to know is a basic understanding of the different species in residence and for the sake of the children at the shows; how the trainers make the wild marine animals obey their commands. The animals cannot perform their own "marine identities" but rather must become rather like circus shows, performing stunts that drive the crowds wild precisely because the tricks are alien to their nature and therefore somehow impressive. In a way, the whales and dolphins (etc.) are performing twice behaved behavior (to quote Richard Schechner) because they are in and of themselves performing the being of an orca (for example) while also performing the antithesis of their own "natural" behaviors by performing "topography of behavior, a very precise, consistent, and measurable use of the body" (172) in other words, completely unnatural standardized animal behaviors
When I was about ten years old, Marine World (I'm not sure of the corporate owners at that time, it has changed a great deal since) decided to build a plethora of enormous roller coasters much to the expense of the animals living within the park. There was a huge controversy over the changes; animals rights activists picketed at the gates and dozens of articles where published in the papers regarding the construction of the rides that were supposed to make the park competitive with other amusement parks. I can remember thinking that it was so sad that the corporation had decided to make these changes that would seriously affect the lives of the animals because people weren't finding the animals interesting enough to keep up admissions. I took one trip to the park post-roller coasters and was so devastated, I never went back. I personally hate seeing animals in captivity, even at the most well-kept, affluent zoo or exhibit; however, I can understand the appeal of the spectacle, particularly to the young. Davis's techniques involving the shadowing of school classes and different types of visitors to the park, makes her analysis of the spectacle much more intriguing and diverse in its approach than I had originally thought would be possible. Her analysis is so extremely detailed that it is hard to critique; however, having been that entranced child watching the trainers lovingly care for and play with their marine companions, I cannot agree completely that the Sea World corporate entity is completely sinister. Watching animals in captivity is not an innocent activity like it seemed to be in childhood, but there is still a kind of magic (that is of course what the corporate powers are banking on) that nonetheless brings to life what exists only on television or in the imagination for very young people.
Davis talks about Shamu (and Sea World as a whole) representing the taming of the wild, in other words the domination of the people by the corporate powers that be. It is the human penetration of the wilderness that signifies our unquenchable power trip on the planet. Davis says, "Sea World is a machine that profits by selling people's dreams back to them- dreams of a happy family, congenial public spaces free of fear, a peaceful community, meaningful social action, un-alienated labor and true leisure, a just and clean and provident physical world" (244). True, that the spectacle that is Sea World provides this kind of service for profit, which makes the entity contradictory and problematic on a multitude of levels; however, the suspension of disbelief she discusses as totally impossible, is actually quite possible for an audience of children. How are they to know that these dreams are total fabrications unless somebody tells them that this is so? Kids believe in Santa Claus until someone older and wiser in the cruel realities of the world informs the child that this is all a deception. I think that Sea World, while definitely a place of un-kept promises and surface-level, profiteering, educational ploys, can be and definitely is in large part a magical world of possibility and access to the young and blissfully ignorant. I don't think that this is positive or negative, but I also do not see how a profiting theme park can function in any other way. I mean, America has been and continues to be about suspension of disbelief in more ways than one.
Posted by Dori Lubliner at 01:10 AM | Comments (0)
A Free Sound Tour-iTunes' Podcast
Hey, guys! I just found that iPod can free download soundtour programs. It's produced and selected by National Geographic Traveler magazine. The program is named "Walks of a Lifetime" and a "showcase of the world's greatest tours." It's a free download. You don't even have to buy an iPod, just link to Apple's websitehttp://www.apple.com/itunes/download/ and download the iTunes program first( I believe that iTunes is alredy set up in most apple computers). After installing iTunes, you will find a category "iTunes Store" in the left toolbar of iTunes. Click the "iTunes Store", then the main screen of your iTunes will show some icons. Find the "Categories", then click "Society and Culture" and you will find the link of "Walks of a Lifetime". After entering the "Walks of a Lifetime", you can download what you want. You can download it to your MP3 player, or save it in your computer and you can listen to it via computer! Enjoy~~

Posted by Ching-Yao Luo at 12:40 AM | Comments (0)
March 30, 2007
Shamu Show Incident Nov. 15 2006/ Shamu Game
The quality of the video is not great, but I found it an interesting perspective on how "the show must go on" and the continuing controversies around Sea World. Also, the focus of the video camera directs our eye to the visitor's anticipation described by Susan Davis, when something might happen/has happened/is happening.
And... in case the children/animals training similarities were of interest to you:
Posted by Beatrice Barbareschi at 06:35 PM | Comments (0)
March 29, 2007
Hirsch pdf link
Posted by Jamie Reynolds at 11:48 PM | Comments (0)
Marianne Hirsch -"postmemory"
In last week's class, BKG referenced Marianne Hirsch's theory on "postmemory" as it related to our discussion on Thanotourism. I am currently in a class with Professor Hirsch and we had the opportunity to read her essay on the topic-- super interesting stuff! I asked her if it would be possible to post her work on our blog, but unfortunately it is still being edited before publication. However, she did pass along this essay she co-wrote with Leo Spitzer, which is also very interesting... enjoy!
/Users/jamiereynolds/Desktop/There_Was_Never_a_Camp_Here.pdf

Posted by Jamie Reynolds at 09:52 PM | Comments (0)
Say I Love You in the Company of Columbo
I can't tell if this should fit into the rubric of tourism as it has been posited in our class or not:
Say I Love You in the Company of Columbo: it appears to be a sort of weekend package deal in which a Columbo/Peter Falk impersonator leads a couple through an extended simulation leading to the revelation of a marriage proposal from one of the lovers to the other.
The site seems to organize a variety of these private performances/touristic productions, all available for 3990 Euros. But can anyone really put a price on having Columbo as witness to your penultimate expression of love?
Posted by James Ball at 01:55 AM | Comments (0)
March 27, 2007
Following the Money...
Here are some experts from a Times article today about a financial scandal surrounding the head of the Smithsonian.
Embattled Smithsonian Official Resigns"

" The governing board of the Smithsonian Institution announced Monday that it had accepted the resignation of its top official, Lawrence M. Small, after an internal audit showing that the museum complex had paid for his routine use of lavish perks like chauffeured cars, private jets, top-rated hotels and catered meals."

Mr. Small, 66, a former executive at Citibank and the mortgage financier Fannie Mae, had led the 161-year-old Smithsonian since January 2000.


Mr. Grassley was especially upset over Mr. Small's compensation, which totaled $915,698 this year, and "hundreds of thousands" in reimbursements during his tenure for items like "chandelier cleaning and pool heaters" at Mr. Small's home.


Although it receives about $715 million from taxpayer funds, the Smithsonian's museums charge no admission fee and rely on receipts from its retail shops and other commercial ventures for income — along with public donations.


Its Business Ventures Division has come under major criticism, in part because of a recent deal with Showtime, the cable channel. In that deal, the Smithsonian agreed to restrict access to its archives and scientists, which critics said violated its public status.


Ms. Burke has been linked with Mr. Small's efforts to put the Smithsonian on a more commercial footing, especially after attendance plummeted following the 2001 terrorist attacks.

Posted by Tara Good at 10:03 AM | Comments (0)
March 26, 2007
Cristina on Thanotourism
In one of our classes we discussed Pierre Nora's lieux de memoire, but it was not until reading the Till piece for this week that I could visualize the idea of place serving as a repository for memory, and doing the work of remembering. Through architecture, Berlin is trying to work out the issues of its troubled past in a very public way. One of the arguments I found helpful, was the idea of how hypervisibility can make these issues one dimensional. As the city tries to lay everything out for people to see, it is a performance to prove that they have nothing to hide, but it also makes the unseen more difficult to perceive. The city's memory sites perform to the world that Germany is repenting for its past, and could never again be capable of the atrocities of the Holocaust. In a way they are like the sites of conscience described in the Sevcenko article, because their very purpose is to connect people to the past in a way that can contribute to the present. Yet in some ways this public performance seems forced, not that it isn't genuine, but that tourists expect certain things of these sites, to the point that the sites are criticized when for example the Jewish museum doesn't completely focus on the Holocaust.
Tuol Sleng has also been affected by the expectations of tourists, especially those who have been affected by Holocaust films and museums. I agree, that the Holocaust has codified the way in which genocide and torture is presented, and we carry those expectations when we view exhibits such as Tuol Sleng. Especially in this media rich age, where we carry iconic images with us wherever we go. Tuol Sleng is visited more by tourists, that local Cambodians, and it begs the question, what do we get from visiting such a place? Does it reinforced the mantra of Never again? Is it some kind of twisted entertainment we get from experiencing the suffering of others, or are we really paying homage to the memory of those who died?

I must also ask myself, is the reason I am moved by displays of skulls and hair because of the false experiences I have lived through in movie theaters? The rise in Schindler's List tourism is evidence of the effect of film in converging the real with the performed, and what is left doesn't seem to matter. I am not Jewish, and yet as a minority I feel as if I understand the experiences of discrimination. In the US, they have located one the purposes of the Holocaust museum as promoting tolerance, and thus working for all minority populations; the museum has been redirected to include all of us in this so-called country of immigrants. But since when does the story of the Holocaust belong to me? According to this narrative, we must strive to prevent any discrimination because it may snowball into the extermination of a culture. So because of this we must strive to remember as the distance between the event and the present increases. But I think we must also question the draw of such places to tourists, because I don't think that remembering is the only reason people go to these sites.
Posted by Cristina Diaz-Carrera at 11:42 AM | Comments (0)
Balg Eun Song's response
Historical sites attracts people because it connects the past and the current moments. Whether right or wrong, the bigger the historical event was the more it attracts people. In respect of tourist attraction, assaulter and victim is not a matter of consequence. Then isn't it unfair for the wrongdoer country to earn income from the site as a tourist attraction? Along with the apologies, Berlin is gaining two; the benefits from the site, and the image of the global moral community because of the acknowledgement of the violent national past.
But, we cannot just live in the memories and always bring back the past into this world. From the pile of the long history, there are too many moments to judge and apply it back to this current moment. In addition, some events are not clear about who started the conflict. Even there is a contradiction of the income, I would say it is up to personal opinions.
However, regardless of the tourist attraction, I consider the fact that German acknowledged the crime is important. There are still many countries that have tragic memories by an aggressor nation and living without any apologies. Korea and China had a tragic experience from Japan. The tragedy was almost concealed by the hidden effort of Japan but little by little the truth started to reveal. However, Japanese are still justifying and distorting the history. Instead of reflecting their atrocious behavior, they worship the generals who conducted the event in their temple. It is like German putting Hitler bronze statue in the biggest chapel and worshiping him. Even the prime minister of Japan, Koizumi, went to the temple to worship. The only thing we are asking to Japan is them to acknowledge the truth about what they have done, just like how Germans are doing.


Posted by Balg Eun Song at 02:34 AM | Comments (0)
March 25, 2007
On thanotourism, Chinese immigrant labors and history
After reading this week's readings of "thanotourism", I am wondering to ask myself that are there only special tourist sites or museums which bear historical trauma broadly discussed? In Karen Till's "The New Berlin", she implies that the new generations' viewpoints of some memorial sites such as holocaust or concentration camp are different from the elder generations due to the history is far away from the new generation. Therefore, it seems that the historical sites or museums somehow are based on a certain time and space, but the meaning will fade out by time.
But it reminds me to think about that the history of Chinese immigrant labors in late nineteenth century and early twentieth century, particularly in the building of Central Pacific Railroad. For me, the Central Pacific Railroad is a living witness of the early bloody history of Chinese immigrant labors. They inscribe the traumatic memory of early immigrant labors in America with their bloods and lives. Therefore, I am wondering to think about that do people realized the history of immigration and economy trade while they taking the train or viewing some historical sites.
For more information of the central pacific railroad, please see,
http://cprr.org/Museum/Chinese.html
By the way, I found a paper of discussing the Chinese labors in building Pacific Railroads in Canada,
http://www.mining.ubc.ca/faculty/meech/Impactofasianmigrantworkers.pdf
Posted by Ching-Yao Luo at 11:21 PM | Comments (0)
Spuren and history as embodied and embodying -- dasha's post
I found an intriguing set of parallels between this week's readings and some of the topics we have addressed in class with the past few assignments regarding the ways in which bodies are remembered, lives recreated, and historical subjects produced through different modes of tourism. In psychogeography, one's own derive enters the self into an urban landscape in order to both alter the individual's relationship to that geography, and to alter the environment's relationship to the body traveling through it. Heritage tourism and the notion of intangible heritage place historical and cultural value in and on persons who maintain particular practices and embody a certain past or pastness. In living museums with historical interpreters, the interaction of the actor and the visitor facilitates a making of history that creates a drama to educate about the past. In these types of historical sites, objects played an integral role in activating the narrative of the theater and the stories of individual historical lives.
The city as palimpsest, the person as palimpsest, the object as palimpsest, the void as palimpsest. The layered meanings and histories are present – but only if one is searching for them.
It was in Karen Till's discussion of "Spuren and Zeugnisse" that I began to consider the role of the individual and the presence of bodies in these space-time configurations of traumatic sites carrying tourist potential. Both sites of conscious (as museumized historical locations) – and thanotourism, utilize to varied extents individual life histories to reflect upon meta-historical and meta-physical happenings (in regards to the Holocaust, Till describes this as "the metacategory of the unknowable" (202).) Dependent on bodies to inhabit these spaces, as well as on "stewards" (the Coalition's word) to foster dialogues, there is an interpersonal relationship that is cultivated between contemporary citizens of a world moral order (tourists) and individuals that have been subsumed by historical atrocities.
Spuren – "what is left behind by humans… the physical and spiritual imprint of the human touch, and the connection of that touch across time and through space" (208) – is a fascinating way to understand [museumized] historical sites' ability to evoke and shape memories, individual histories, and notions of national belonging. Why Spuren's dynamics are so intriguing is due to the fact that "only people who arrive at a scene or search out a place find Spuren: the act of discovery constitutes their meaning as material traces." Here they are very much connected to objects regarded as relics in the living history museum, as well as the built environments explored through derives. Till writes, "[As] symbolic footprints left for a future generation" – a "compassionate touch" – these "Spuren acquire a special spiritual status and may be interpreted as sacred relics" (209). Spuren are material witnesses (BKG's term) that are activated through the presence of the tourist, during which this experience aids the formation of historical and individual memory. Because Spuren are evocative of the death and suffering of individuals, their activation personalizes these histories. The palimpsest of these sites depends on an investment from the tourist into the lived presence that one was. This is related to, but somewhat different from, the ways in which the Tuol Sleng and Choeung Ek memorials utilize skulls and mugshots of the dead to summon their tragic stories from viewers. The presence left behind is more tangible than the "spiritual imprint" of Spuren, however, the contact between tourist and relic still evokes an individualized notion of this particular space's history.
With this in mind, I raise the question of "the archive and the repertoire" which I have brought into my posts for the last few weeks. When memories of a particular "dark" past are being resuscitated or alternatively documented through experiential and sensorial means, does the passing on of these experiences fit into the binary of archive/repertoire? Whose histories are being fashioned and retold? Till often mentions the "ghosts" of Berlin and the way the city is "haunted" by these histories. In what ways can a tourist in this landscape participate in the remembrance of these haunting lives? Issues of mimesis and representation enter the discussion, as well as conceptualizations of the self as an agent of remembrance/commemoration and of the historical process. These readings brought out a further dimension of the individual's participation in the voicing of those partial layers – the palimpsests that become museumized.

Posted by Dasha Chapman at 08:55 PM | Comments (0)
The Unreconciled Reconciliation of Peru
Two years ago, I spent two months in Lima, Peru, doing research on the Truth and Reconciliation Commission's strategies to social rebuilding following the civil war connected to the activities of the indigenous socialist movement called "Shining Path" (Sendero Luminoso). I conducted numerous interviews with people working in the Commission, went through archives of confessions and trials, read academic books, watched documentaries, and talked to many people about their experiences of the war; yet, after all that, I still felt I was not "sensing" the experiences of the civilians the in the conflict.
And then, just a week before I left, I heard about a photo exhibition of the Sendero Luminoso period. Those few images changed it all!
The exhibition was housed at an old colonial-style house, bombed during the civil war and left falling apart among its own ruins until that day in 2004. Thinking back at my experience there I realize that the "efficacy" of the memorialization that the site constructed was in a large extent due to the explicit physical look and the implicit message of the ruins of the surrounding ecology. The palpitating destruction moving all around as I walked from room to room molded an air of destituted past, which seemed to be asking me to help it be born again, gain strength, and bring the untold stories of the past suffering to our present-day understandings of history. In this performative site representing performances of suffering through subtle light and shadow, it was the performance that helped me understand and feel the past more deeply that the actual real interviews with victims and public officials I had been conducting for two months. I almost felt obliged to the people looking at me, from those moments of their tragedy right into my own comfortable position of a researcher, to breathe new life into their bodies and eyes and gasping mouths, through my own body and eye and mouth.
In this sense, the stories told in the memory exhibition in Lima did "provide a safe yet generative place from which to explore pressing questions we're still grappling with today" (Sevcenko: 56), where the museum has the potential of turning the visitor into "a participant in collaborative problem solving" (57), as envisioned by the American Association of Museums (AAM). I myself felt becoming participant in this process of questioning and imagining the answers.
But I wonder, would the exhibition have worked in the same way for all other visitors? Do all become critical participants, or is it only those already fortunate to have the access to education and political participation (usually those who were not part of the suffering group but rather of the dominant classes) that manage to achieve those levels of analytical thinking required for a healthy dialogue? If this is so, and the actual victims still live under the limits of access to information and critical skills, the ideals of dialogue degenerate into a simplistic, one-sided, non-productive monologue on the elite-perceived importance of museums as incubators of civil change.
The Sendero Luminoso exhibition was controversial in the way it was interpreting and representing the past. On the one hand, it portrayed the Sendero fight in such gruesome colors that blatantly defy the opinions of many scholars that the communist strife began as a non-violent movement and turned into a civil war once the government militias and the paramilitary they trained, all equipped with American arms, started attacking the Senderistas and burnt whole villages blaming it on them. On the other side, the controversy was exacerbated by those who thought the past suffering was to be finally forgotten, as it was time for people to "move on."
In addition to the controversial nature of the performance of memory, which seems inherently controversial and constantly contested, between those rugged brick walls and roofless rooms I sensed something I had not been able to comprehend before: the magnitude of how the killings between "brothers," between people often from the same politically polarized village, destroyed first of all the personal universe. Up until that point, I had been focusing on the institutional aspect of civil war, the politics of reconciliation, the economy of settling disputes. But I was missing the personal, and I could not acquire a sense of that "personal" through interviews alone. I need the visual, I need to tangibly imagine and intangibly touch those experiences. It is in the precise force of the visual and tangible that I spot the locus of power of museums to generate engagement. However, what the results of this engagement would be is highly contingent on the approaches to understanding the connection of the past to the present. Is the past to be constantly remembered and expiated? Or is it to be transcended? And how do you transcend and go beyond empty repetition of guilt and suffering without forgetting? This fine balance is the key issue to consider in analyzing the effectiveness of museums of conscience.
Though I believe the potential of museums as cradles of dialogue still seems to me highly unexplored at the national levels within the circles of cultural policy-makers, Brazil is one exception, where I conducted interviews at the Ministry of Culture's Department of Museums and Cultural Centers. There, the museum itself is seen as a "cultural center," or a space whose goal is to both educate and nurture creativity and to also create a "culture" of understanding, tolerance, and respect for differences. The government itself has built a few community museums, and one in the oldest shantytown, as an effort to generate self-esteem in order to bring social mobility and strive for change. The International Coalition of Historic Site Museums of Conscience is a different kind of initiative since it originated in private, civil society ideas trying to break the vicious cycle of "museumized" (elitist, conservative, top-down) museums and turn them into a tool of voicing those stories that would otherwise never find an outlet. The three approaches offered by the Coalition (a. opening new perspectives on civic issues, b. fostering civil dialogue to activate those new perspectives, and c. creating new spaces for dialogue [Sevcenko: 60]) are crucial, but again each museum's effectiveness is contingent upon the ideologies and perspectives of the people who implement them, the resources they have available, and certainly the levels of education and information access of their visitors: an important factor that needs larger policy strategies to be dealt with.
The UNESCO Slavery Route, an initiative at yet another level, the trans-national, than the previous two I looked at (national government and civil society), is another interesting reflection of a gradual global change in thinking about museums and the development of the "tourism of memory," which is an important move toward a more holistic understanding of the past connections among events and the current implications of those processes as points on a continuum and not fixed dots in the past.
However, how can all these initiatives "contribute to the establishment of a culture of tolerance and peaceful coexistence between races and peoples," as UNESCO has nicely but quite utopically set before itself as a goal? This is still a very difficult task, and certainly one that takes an ongoing effort on part of museums, governments, and civil society.
Posted by Nadezhda Savova at 06:04 PM | Comments (0)
Cholula´s Pyramid

In these readings for this week, memories various places had come to my mind, but more than sharing them I am interested in expressing a concerns to tourist sites in my country, Mexico. Specifically the Cholula´s Pyramid located two hours away from Mexico City, in Cholula, Puebla.


In these readings for this week, memories various places had come to my mind, but more than sharing them I am interested in expressing a concerns to tourist sites in my country, Mexico. Specifically the Cholula´s Pyramid located two hours away from Mexico City, in Cholula, Puebla. This pyramid was dedicated to Quetzalcoatl and was a ceremonial place for seven different civilizations. Each civilization constructed a layer of the pyramid where through ornaments they represented their time in power in this area. The Spanish Colonizers ended this dynamic of conquest with a disturbing action. They built a Catholic church on top of the pyramid "Iglesia de Nuestra Señoras de los Remedios" and cover with sand the pyramid. This church showed the oppression and empowerment of the conquest over the indigenous covering the past for centuries. Although this site can be seen from long distances the pyramid had vanished from quotidian eyes and was kept buried until last century.
Now, Cholula´s pyramid is a tourist site, a space for memory where historical information is given, but not discuss. It is the curiosity, knowledge or familiarity, and the narratives that attract the visitors to this place every year as the article Memory in the New Berlin shares about Berlin. "Places of memory are made to evoke ghosts, localize emotions associated with haunting, and establish cultural practices that delimit social relations to the past", even though this tourist site is giving benefits to the economy of this town the relevant information of this ceremonial site is treated not s a site of memory but just as a tourist attraction. This has create a great need to search for efficacious interaction between history and visitors where a space to discuss Mexican and International visitors to articulate the blindness of Mexicans in their own Historical Information.

Posted by Nohemi at 01:25 PM | Comments (0)
Ooops...
Sorry I forgot to post this earlier--I was in a wedding and lost my mind in the process!
I have never analyzed the effects of a film depicting a moment in history to quite the extent as I have recently. Paramount Pictures with the screen writer from The Pianist, are writing a movie about my town, Dover, PA, about the Intelligent Design trial in which parents and the ACLU sued the district when the school board insisted on teaching Intelligent Design, a version of Christian Creationism, in science classes. Everyone in the town has a different opinion of what happened during this period of time, and knowing one version will be concretized for the rest of the world through a Hollywood interpretation is unnerving. I remember watching Schindler's List in my tenth grade history class. I recognized that it was an interpretation, but I assumed that this interpretation was close to the truth. What is extraordinarily problematic is taking a film—a fiction—and utilizing its interpretations and premises to develop a tour of a traumatic historical reality. The Hollywoodization of history and trauma is alarming. While it may mean history is more accessible through film and a tour—that tourists are able to become emotionally attached to the actors representing real people and therefore, more emotionally connected to the site—what history is being represented? Spielburg's? Germany's? Capitalism's? Additionally, in order to tour this site, the tourist must be familiar with the film, even to have seen it multiple times. I wonder if the tour, or the familiarity with the film as a requirement of the tour, create repetition of traumatic history that desensitizes the tourists to the original subject manner. I am curious to know how people react to this tour—how historians, survivors, and locals in addition to tourists view this site.
Posted by Aralene Callahan at 10:19 AM | Comments (0)
on thanotourism
Genocide is out of our limited comprehension of human nature, and its trauma is too overwhelmed to describe. Beyond descriptions, the material facts – the architecture of the concentration camp, the instrument of torture, remnants of the body – become the main stress of many genocide museums. Photos and the list of names of the victims strongly bring out a sense of authenticity of a specific history, more authentic than any other cultural tourism can present. In seeing those photos, or hearing the testimonies of the survivors, the time seems to be crystallized in the museum or website space – a ritualistic space of confession, witnessing, understanding, transformation, and perhaps love.
However, the thanotourism can be dangerous too. Take the Nanking Massacre for example, in seeing the brutal photos of tortures and killings, the grief and indignation and hatred for Japanese arises in many Chinese rather than love or forgiveness or piece. The Japanese Government still denies the massacre, claiming the history never existed. When I browsed the websites of the Massacre, there were still words such as "remeber the hatred." People's anger needs a way out, another race becomes the target. The dark history of the genocide is constituted mainly of these thrilling images and stories of tortures, but can these images and stories transform the hatred into love or war into piece? Nevertheless, compared to the the thanotourism, which is powerful and efficacious in many ways, The museum of love seems pale. Is there any other museums about forgiveness or love?
** A Wall in the Exhibition of the Facts of the Nanking Massacre -- why do we emphasize so much on the piles of the dead body? I saw similar images in Holocaust films too.
** Some clips:
1) Rape of Nanking (1) (2) -- a documentary by Rhawn Joseph
2) Japanese denies the massacre: (1) (2) (3)
-----------------------------------------------------------------------------------------------------------------------------------------------------------------------------------------------------------------------------------------------
P.S. The vocal of the theme song of the clip "March of the Living I: Promotional Video 2005" – Return to Innocence – was sang by Difang Duana, who used to be a Living Treasure of Taiwan (he passed away in 2002 at the age of eighty-two.) The vocal was originally named "The Old Men Drinking Song." The Living Treasure was first found by the ethnomusicologist. Following is a brief instruction of him and his Ma-Lan Choir, a choir made of five indigenous Ami elders who were all over sixty at then, including his wife.
During the 1996 Olympic Games in Atlanta the official song by Enigma – "Return to Innocence" – included a short section sung by Kuo Ying-nan and the Ma-Lan Choir (in 1999, a copyright lawsuit ended with an out-of-court settlement establishing Kao Ying-nan of the Taiwanese Amis tribe as the righteous owner of the song.) With their beautiful sonorous voices, the Ma-Lan Choir has touched the hearts of millions worldwide. When he was young, Kao Ying-nan (or "Difang" in his aboriginal dialect ) used to hang around with his friends of the Ma-Lan Choir. Who thought that playing around would foster their interest in singing. With their amazing voices and vivid body language, they have made the polyphonic singing style of the Amis aborigines known throughout the world. (http://www.ignitefire.com/a_malan.html)
Posted by Chia-fen Chang at 12:26 AM | Comments (0)
March 24, 2007
'Sense of Trace'

In the article "Memory in the New Berlin" I thought the author clearly explored the subtle concerns of creating a new places of memory. I will focus my response on this article as it triggered a lot of ideas for me. How can new sites assume mnemonic triggers that transmit history in a way that correlates to the event? How can architecture perform?
Till writes about her tour of the uncompleted construction of Daniel Libeskind's design for the Jewish Museum in Berlin: "Through the experience of being in a place yet to be finished, the time of this transitional period (of "Berlin-being-built") was located in our bodily and sensory memories of this building" (222, Till).
I thought that incompletion could be a way of holding the space for the missing (narrative/ presence), a perpetual unknown that provokes wonder. There is something satisfying about completion in the way that it facilitates a perspective that continues to distant the present from the event. In this way there is potential for a closing, "they commodity the fears and fantasies of national haunting by imposing order on time (often to discipline ghosts) and package a palatable and profitable identity through place" (196, Till).
In the example of the Jewish Museum I realized that the importance for architecture to maintain a life that extends intergenerationally that the presence of bodies moving in the space should be accounted for. Moving in the space of incompletion brings to the site a continual emotional reaction, a vitality.
Till also refers to the places that bear witness. Given architectures potential temporal endurance, she writes, "Places will remain to bear witness after human survivors have passed away." (212, Till). I think this impermanence is a beautiful thing to remember while passing through either a historical site or a piece of architecture that is intended to evoke a history. The wandering presence of the tourist is the material instability of the site, perceiving and contributing to the 'sense of trace.'
Sevcenko addressed the presence of the tourist in relation to the vision of the International Coalition of Historic Site Museums of Conscience: "We hope that historic sites interpreting a single moment or event will be continually renewed by citizens challenging the latest legacy of what happened there as it takes new form in their societies." (63, Sevcenko).
Reading these articles it is clear that it is important to recognize the methods of exhibition transmit/reflect not only the subject or event in concern, but the intended trajectory or the emotional propulsion departing from the event of the trauma.

Posted by Claire Duplantier at 11:56 PM | Comments (0)
So I learned how to use Photobucket....
Here is something else I thought of when talking about art-memorials and borders.
These were photo's a friend of mine took while he was in Israel.
They are sculptures, made out of scrap mettle from tanks, plans, armaments, etc., from the '67 war I believe. I also want to say it's the Israel-Syrian border, but it might be Egypt….he said they are like an artistic warning of "don't cross this border."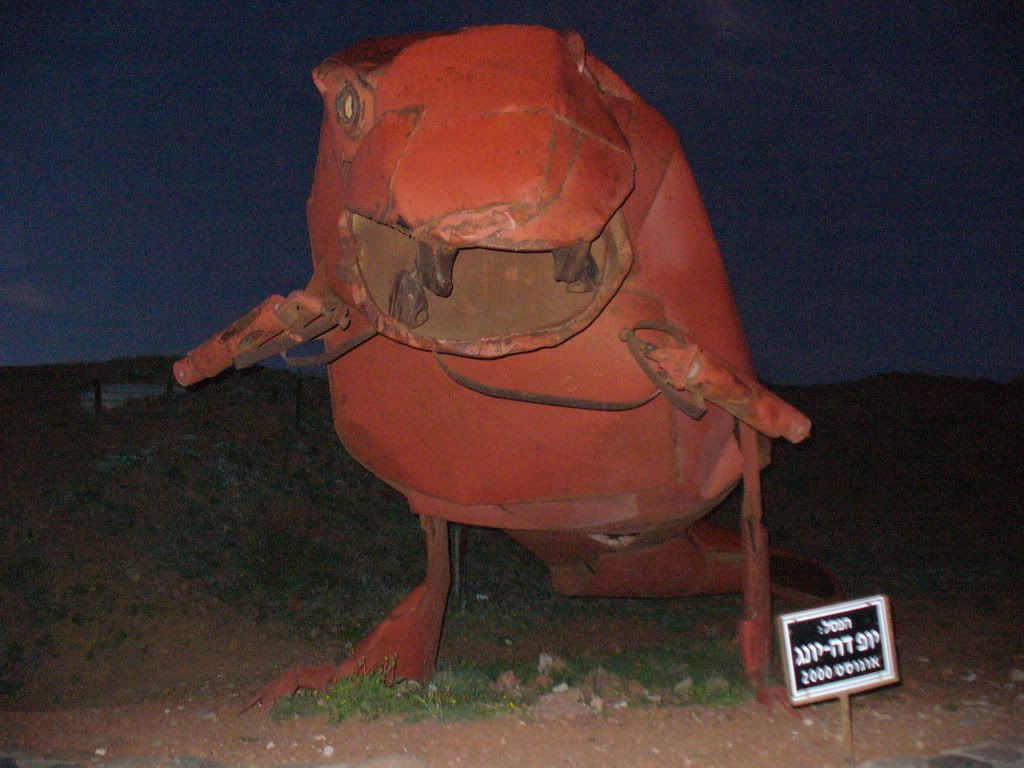 This is the Swiss Doctor with his Cello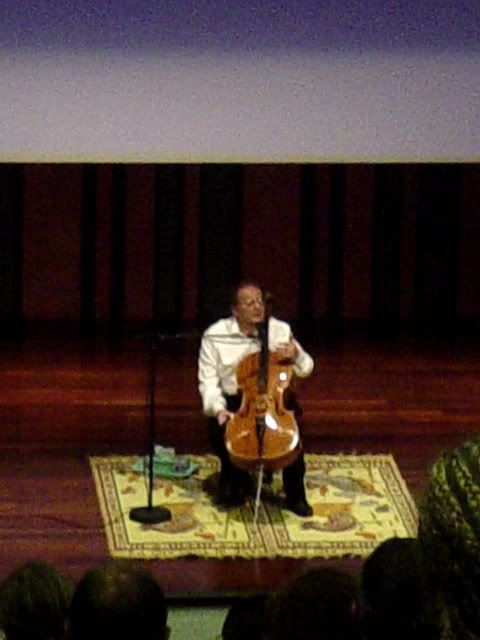 And this is a piece from a very small art exhibit documenting the genocide and the continuing problem of landmines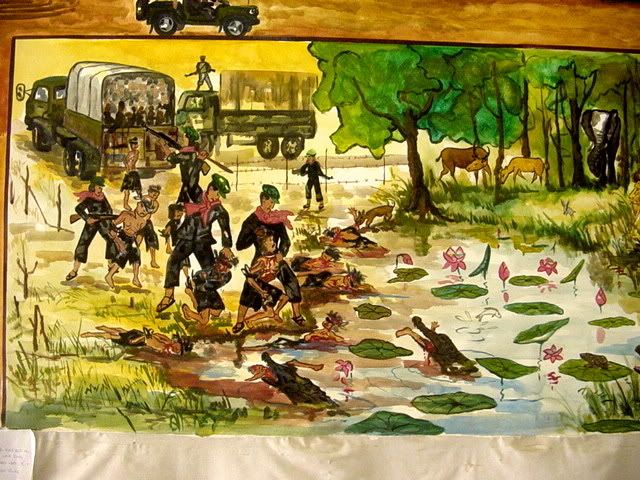 Posted by Tara Good at 10:16 PM | Comments (0)
Sorry, here are the links
www.beat-richner.ch/
en.wikipedia.org/wiki/Beat_Richner
Khmer in Switzerland
Documentries

Posted by Tara Good at 09:59 PM | Comments (0)
"Topography of Terror"
The establishment of a museum as a form of moral reconciliation for national historical wrongs proves intensely problematic. In the same breath I will say there are many admirable benefited in the performance of cultural confessional seeking international atonement through the modern tourist. This raises the question of the responsibility of a tourist as witness and what the act of witnessing entails. Museums, by nature, requires the physical presence of the audience. While virtual museums exist on-line, a museums bases it's true worth on the somatic experience of entering a specialized space to engage an audience with objects, art or artifacts, which are fetishized to represent larger cultural manifestations.

The naming of a museum of the "Topography of Terror" fascinates me. As my own reference, for my thesis I have been writing a great deal about the Terror of the French Revolution and it's cultural perpetuation through the Jacobin narrative. German National Socialism took a page out of Robespierre's book in his establishing the Committee of Public Safety as a secret police and the use psychological terror through the implementation of pain upon the body. Applying the notion of a typography to the ideology and practice of terror raises a number of implications. First there is the idea of typography in the mapping of a terrain. This is made explicit in the marking of locations of Terror through out Berlin, i.e. the offices of top SS officers, the walking of the former wall, etc, "There are hundreds or thousands of places, all of which are linked to [particular] histories. This despite the fact that in Germany there is no single place which can work as a symbol for the Holocaust-even the Topography of Terror is no symbol for the Holocaust." (205) By casting the memory of Terror as a geography, the memorializing resists becoming fetishized. This natural perpetration of memory according to the aura of a site creates juxtaposed dynamic to the constructed topography of the museum as creating a specific affect to compliment the objects on display. The construction of a museum mediates an experience. For this reason critics are quite right to question to role of famous architects in creating a museum according to an individual artistic interpretation of a national memory.

Memorializing terror as a topography establishes another theoretical parallel, the role of terror within a national geography and the effect of terror upon the geography of the body. Akin to 'sites' of the Holocaust, being too numerous to have a singular representation, the bodies which were the sites upon which terror was inflicted are also too numerous to has a singular representative. I am curious to what extent Elaine Scarry's work on the effect of pain upon the body in defining and collapsing borders of identity can then be applied to the geographic body of the nation. Sites of the Holocaust, places of torture, are wounds themselves on the national topography. Scarry says that the infliction of pain silences the voice of the victim. Does the marking of sites of torture with memorials then return the voice of the victim?

Theoretical implications of the typography of terror that interest me include how the civic architecture of National Socialism, now sixty years since its demise, is mapped. Also, how is terror as a political tool used outside of the national boundaries of Germany or even the historical period addressed? One could make the argument that these the addressing of the international phenomena of state sponsored terror is not the mission of these museums of consciousness. But in Germany's assuming the role of a harbinger of morality in the post-Soviet world, looking to a globalized future becomes included in the experience. The article named other major Holocaust museums, those in Jerusalem and Washington D.C. The article cites the identity roles that are taken on by these museums of consciousness, the Germans as the self-continues perpetrators of violence and the Jews as the victims, which begs the question, what is the role of the Holocaust museum in D.C? In taking the international stage in building one of the most famous Holocaust museums in the world, in what role is the U.S casting itself? I would venture to say, as the liberator. As a non-Jewish American, when I visited the holocaust museum in the 8th grade, I was devastated by the plight of the Jewish people, horrified by the Germans, and…proud to be an American. The meta-narrative of the Holocaust museum in D.C. is that the U.S saved the world from the Nazi's in World War II. Does that preclude the D.C. Holocaust museum from being a 'museum of consciousness' and just a museum of remembrance? This leads me to ask, if the D.C. Holocaust museum then not a museum of consciousness, where are America's museums own museums of consciousness? To cite two of the many historical transgressions the U.S has to feel guilty about, why are there not a museums on par with the D.C. Holocaust museum (not to mention the 250 throughout the U.S.) (236 Williams), for slavery and the genocide of the Native American population? Is the Holocaust itself, consciously or unconsciously, becoming fetishized as a universal representation of genocide? Or at least the standard by which all other genocides are compared? This also leads to question regarding how to the Holocaust itself is remembered. The number that is most often repeated are the 6 million Jews. What of the 5 million other people? Why does the focus on 6 million Jews take precedence of a total of 11 million people? Where are the memorial to the homosexuals, Gypsies and disabled? What does this void say about the 'back stage' of museums. In a commercialized museum culture that aims to please the consumer, are people afraid that families touring Europe don't want to visit museums about the execution of gay people? The establishing of Israel after the war established a political border intended to help heal the bleeding wounds of the Jewish people. By lacking a border, do the Gypsies forfeit their place in international memory? Do museums, which rely on archival history naturally fetishize history? Maybe that's part of what interests me about a topography of memory, it's de-essentialized nature. The reliance of a sensory experience. The knowledge that comes when the viewer's body comes in contact with a topographical site, that is interacted with as another body. "These pleases of cultural trauma, "the wound that cries out, that address us in the attempt to tell us of a reality or truth that is not otherwise available. This truth…cannot be linked only to that is known, but also to what is remains unknown in our won very actions and language.'"(208) The quality of the ruin, the absence of architecture and presence, requiring the engagement of the audience to imagine, and recreate for themselves the horror of the unimaginable.

To extent the Holocaust stands as a model, both for memorials and for engaging the severity of genocide itself, is broached in the article "Witnessing Genocide." The article illustrates how culturally and historically different every genocide, and hence, the different requirements for its remembrance. Unlike the detail oriented Nazi's the Khmer Rouge did not leave comparable archival documentation of their genocide. This archival lacuna is one among many aspects of the Khmer Rouge regime that differentiates it from the Holocaust model. Another that the authors pointed out is the continued presence of former perpetrators still living and wielding considerable political influence.

This article had particular significance for me in that I visited Cambodia two years ago. I spent a week in Siem Reap, the town neighboring Angkor Wat. Siem Reap evidently had just laid asphalt for their roads, indicating the extent of nation wide poverty. Yet it was reasonable to assume that those Cambodians driving SUV's where former government officials. This was just one example of how, what Williams describes "To some degree, Cambodia's current stunted economic development, sporadic violence, and preponderance for war-wounded beggars form visible reminders of the impact of war and genocide."(248) I would go further than Williams, the topographical experience of Cambodia, the somatic interaction with the people and the land creates a direct and unequivocal connection with the genocide. For one, there are very few people over thirty. Most local guides at Angkor Wat share stories of losing one or both of their parents. Second, perhaps a third of the people are missing a limb. Because of the memory of the genocides live so vitally in the day to day life of Cambodia, dozens upon dozens hotels, at $200-$1000 a night are going up outside of Angkor Wat, so that tourists can come to see the temples and nothing else. One of the most remarkable experiences was a tourist event that my guide insisted that I attend.

Once a week the head of the local Children's hospital puts on a performance for the tourists. A Swiss doctor, Dr. Richner, formerly a clown, educates tourists in the history of the Khmer Rouge and the genocide between playing the cello. It has been one of the most powerful example of intermingling performance, education, tourism and social action I have ever witnessed.
Here are some links on Dr. Richner and his foundation:
www.beat-richner.ch/
en.wikipedia.org/wiki/Beat_Richner
Khmer in Switzerland
Documentries
Posted by Tara Good at 09:52 PM | Comments (0)
sad sites
A direct intersection is taking place this week between the syllabus of our class and my other, "Trauma, Memory and Performance", taught by Diana Taylor (NYU) and Marianne Hirsch (Columbia), as we are also considering sites of memory and 'thanotourism'. Honestly, due to my inundation with emotionally taxing material between the two classes, I had to take a break, wipe my tears, and step away in order to try to gain perspective of all I was taking in via readings, museum visits, film and the internet. I was overwhelmed and understand I do not deal well with intensely emotional material (my colleagues in the class who were with me in Peru will attest to this). After stepping back, I realize I am pleased with the crossover as the material in one class is obviously informing the other and deepening my understanding of a severely complex issue.
One of the main questions that I am concerned with is whether or not sites of memory can stand alone without mediation? This query does not apply to sites that are built to honor memory, but rather those already established spaces that are embodied with 'the trace' Till cites. Is the haunting feeling of a torture a camp enough without having to have panels and diagrams to guide you through?
Also related to 'the trace', it is important to consider torture sites that have attempted to erase the trace of torture that that took place there. In Buenos Aires, one of the main torture camps during Argentina's Dirty War was at ESMA, a naval mechanics school, and the space was actually altered after the regime fell in order to discount survivor testimonies. For example, if a survivor testified that he was "taken down a staircase", then the perpetrators would remove the staircase in order to make the victim look like a liar. Photos/ discussion of this can be found in Marcelo Brodsky's book "Memoria en Construction", which I will bring it with me to share with the class.
One distinction Diana Taylor made during our discussion last week was that sites of conscience and memory speak the message "never again"; however, in the case of the Holocaust it is a 'closed' case, as those convicted have been brought to public justice, yet in South America they are living amongst the perpetrators with the very real threat that it COULD happen again. This raises questions regarding the temporality of memory— how does the distance of time alter the modes and mediations of remembering?
This question kept playing in my mind when I visited El Museo del Barrio to see "The Disappeared/ Los Desaparecidos", a collection of works honoring the disappeared throughout South America. While walking through, I was reminded of an exhibit we saw while studying in Lima called "Yuyanapaq", which means 'still remembering' in Quechua. This photography exhibit at the Museo de la Nacion captured horrific moments of Peru's Dirty War and the disappearance of thousands of indigenous peoples throughout the Highlands. I recently learned that the Quechua language has no past tense; therefore, whenever the terrible atrocities are addressed they are always in the present—it's always happening. I find this troubling when considering the issue of temporality. How does a population ever gain distance from the trauma if their language does not permit locating it in the past?
One final point I am trying to work out in relation to the readings/viewings is a sordid connection between 'education' and torture: sites of education turned sites of torture turned sites of education. My premise stems from the example of Toul Sleng, a high school converted into a torture camp under the Khmer Rouge regime in Cambodia, and various schools converted into torture sites in Argentina, in relation to the use of tours of memory and torture sites as education cirriculum, as in the case of Jagiellonian University. I am not sure what to make of it, but the conversion/manipulation/ revamping/mediation of such sites is something to consider.
Posted by Jamie Reynolds at 08:16 PM | Comments (0)
The Art of the Past- John Dietrich

Memorials, museums, historic sites; all means of engaging the past on some level or to some degree. Are they also all means of passive learning to spark active participation? Memoria Abierta, Tuoi Sleng & Choeung Ek, the Berlin Jewish Museum, the Topography of Terror, & the hundreds of other examples of Holocaust Memorials and "Dark Tourism", all function as an attempt to come to terms with the past, whether they have the ability to succeed or not is yet to be determined as history often recounts itself and rarely seems to learn from its' mistakes. Their method of storytelling and their actual mission all naturally vary, and in their own right can be highly effective by eliciting a wide array of human response. What they hold in common is a function of being a public place of mourning or healing, perhaps embracing guilt or encouraging the discovery of reconciliation. Achieving all of that is another story, particularly at a site such as Tuoi Sleng and Choeung Ek, where because of its' physical make up as well the Cambodian governments inability to truly come to terms with who is to blame these atrocities and how justice can be obtained, reconciliation has not begun.
I recently began work on my Masters Thesis, which ironically delves into the role of photography. When is it historic document, artistic expression, or activist tool, or can it function as all three at the same time? I am particularly studying the work of Dorothea Lange (As well as writing a musical about her life), who was considered probably the first female documentary photographer. She was hired by the government and worked under a division called the FSA (Farm Security Administration) photographing migrant workers fleeing the Plains during the depression and the great drought of the dust bowl years. Her basic objective was to document their plight in order for the government to find means of assisting them. Once migrant government camps could be established, she also documented the success of these camps, proving to the American people that something was being done by the government to address this travesty, or in other cases to show their failure, in order to bring to public attention the severity of the problem at hand. She was also the main photographer for the internment of Japanese-Americans during WWII. Again, the government wanted her to illustrate that the Japanese-Americans were being well taken care of in these camps, which was often not the case. When she insisted on showing the truth, her film was often confiscated and images censored. A book was just published this Fall titled "Impounded", which shows all of Dorothea's images from the Internment camps, censored and uncensored. Dorothea, had the ability as a photographer to show the perseverance, pride and dignity of her subjects, always invoking a sense of hope and not despair, despite their often-desperate situations. Because of the true beauty of the human spirit which can often be found in her work, and despite the tragic element that underlines their story, the richness of the moment captured can be tremendously inspiring. So here is a documented history of some of the most catastrophic moments in American culture and yet the role they play or reactions they generate can be infinite. As noted in the Sevcenko article, the Japanese American National Museum held a town meeting with former internees of Manzanar, where Dorothea did a majority of her photographing, to engage a discussion of maintaining democracy and national security. While in actuality, many photographs from these camps can be found in museum collections across the country and sold in galleries, partly due to their aesthetic beauty and emotional impact. The same notion is conveyed in the Tuoi Sleng/Choeung article regarding the selection of 100 images; mug shots of genocide victims, to be placed on exhibit at MOMA and later sold in fine art galleries. Because of the complete lack of information regarding each individual in the photographs, only a short description behind the entire collections history and function could be given. As sited in the article, "The pictures do not just belong to or reside in history but help decide it according to our own imagination or invention. Once again the use of these images encompasses a series of roles, and takes on numerous responsibilities. Does it make the photograph less instrumental or functional when placed in an artistic environment or given an implied definition of being "art"?

Posted by John Dietrich at 08:06 PM | Comments (0)
Site of Conscience, Villa Grimaldi, Santiago, Chile
A site of conscience in Chile is Villa Grimaldi.
Villa Grimaldi was a complex of buildings used for the interrogation
and torture of political prisoners by DINA, the Chilean secret police,
during the dictatorship of Augusto Pinochet.
A selection of sites from an online search on the site shows hot it is bocming a tourist site:
http://www.chipsites.com/chile-travel/tour-pinochet-human-rights-legacy.html
http://www.chipsites.com/derechos/campo_santiago_villa_grimaldi_eng.html ***
http://home.comcast.net/~magisterludimac2/villa/villa.html
The complex was in operation from mid-1974 to mid-1978. About 5,000 detainees were brought to Villa
Grimaldi during this time, at least 240 of whom were "disappeared" or
killed by secret police.
The location is now the site of the Park for Peace, a Chilean National Monument dedicated to human
rights and the memory of the victims. Some structures from the detention center remain, such as a swimming pool, and parts of the original wall that surrounded the site; some have been re-created. As
of 2006 there are plans to build a museum on the site.
Excerpt:
According to staff at Parque por la Paz Villa Grimaldi, the property
originally belonged to a wealthy family, whose daughter was arrested
by the Army shortly after the coup of 1973. The family surrendered the
land to the Army in return for the release of their daughter.
Villa Grimaldi is an extensive plot of land and its buildings, now
demolished, were enlarged to accommodate the center's additional
functions. Apparently, the first prisoners arrived in mid-1974
although their volume did not become more regular until later that
year. Around the summer of 1975, Villa Grimaldi became the MIB's
center of operations, in charge of internal repression in Santiago.
Operative teams had their quarters at Villa Grimaldi. They brought
prisoners there for initial interrogation after arrest and devices
specially designed for different forms of torture were kept there. One
such victim was current President of Chile, Michelle Bachelet, who was
tortured with her mother as her father, General Bachelet, opposed
Pinochet. Prisoners who were not subject to torture were also kept
there, sometimes for long periods, awaiting possible new
interrogations or a decision on their fate.
As the number of prisoners increased, new structures were built to
hold them. The conditions of these apparently differed depending on
the state of the arrested individual and the effects the DINA wanted
to produce in him or her. The Rettig Commission visited this site and,
although the main buildings were demolished, the following description
of Villa Grimaldi could be confirmed through studying the distribution
of ruins and foundations:
Villa Grimaldi's buildings (particularly its Main House, a
construction from mid 19th century) were destroyed during the last
days of the military dictatorship, presumably to destroy evidence of
the crimes that were committed there. The location is now the site of
the Park for Peace, a Chilean National Monument dedicated to human
rights and the memory of the victims of DINA. Some structures from the
detention center remain, such as a swimming pool, and parts of the
original wall that surrounded the site; some have been re-created
(notably the watchtower and some representative detention cells). As
of 2006 there are plans to build a museum on the site.
"The day begins with a breakfast of boiling tea in a small metal
container and half a bread. Lunch is at midday, soup with potato skins
floating around in it and pieces of carrots. Sometimes we eat the
agents' leftovers, with olive pits, bits of fish and fishbones mixed
in with it. Almost impossible to swallow. The screams and moans take
your appetite away. But we're forced to do it. Meanwhile, they never
stop calling people to the "parrilla" (the "grill" torture method), to
endless interrogations... It is a world of contrasts. Guards play the
guitar to the sound of the wailing, while in a corner, lying on the
floor, Manuel Diaz, alias "El Tano" is dying, little by little..."
(excerpt from La Guerra Oculta: Detenidos-Desaparecidos, Capítulo 3.
Recintos Secretos, by Carmen Ortuzar and Marcela Otero, Revista Hoy,
No. 445, jan.27 - feb.2, 1986.)
On September 9, 2006, General Augusto Pinochet (now deceased) was
stripped of his immunity by the Chilean Supreme Court. Judge Alejandro
Madrid was thus able to indict him for the kidnapping and torture at
Villa Grimaldi.[1] He was put under house arrest at his suburban
Santiago mansion on October 31, 2006.[2]
Posted by Amalia Cordova at 07:52 PM | Comments (0)
Beatrice- Thanotourism
One of the points brought up in Karen Till's article on "The New Berlin" deals with the importance and the challenge of keeping representations of the past close to the sensibilities of new generations. This issue becomes particularly relevant in Berlin, as new generations visiting the Memory District are no longer directly related to the events of the Holocaust and Nazi Germany. With the challenge of new generations, memory and history relate to each other differently. For instance, we move from a history that might have been embodied (such as for a Holocaust survivor, or someone who made it out of Tuol Sleng) to an indirect connection to that history, such as tourists who want to learn more about a historical event that is not necessarily part of their personal memory.
The generational differences in the perception of history, and of what becomes marked in personal and collective memory, are a substantial challenge for historical and memorial museums. In relationship to generational sensitization to traumatic memory and history, I was intrigued by the approach to children education on the matter of nuclear bombs and war by the Hiroshima Peace Memorial Museum. As part of their website, in the "Kids Peace Station," the museum presents "The Sadako Story 21," a flash animation of "the mysterious experience of six grader Mai-Chan." In the story Mai-Chan magically becomes Sadako, a Japanese girl who was two years old at the time of the Hiroshima bombing, and died of Leukemia at 12. In the animation, Mai-Chan lives through the experiences of hospitalization and fear of death that we are meant to imagine Sadako lived thorugh. At last, Mai-Chan is freed from the experience, but not without a lesson on what she can do in order to prevent the same hurt and pain Sadako had to go through. The animation includes graphic pictures of the bomb exploding, with destroyed buildings and burnt bodies, as well as more information about wars and violence all over the world.
"The Sadako Story 21" functions as a once removed experience: although you could not be Sadako herself, as you are too young and probably not from Hiroshima, anyone could be Mai-Chan, a contemporary 12 year old who has friends, goes to school, and enjoys running. In this framework, the objective is for the viewer to identify with the main character and feel both mortified and inspired by her experience. The efficacy of the project depends on the connection the viewers have to the animation, as history physically becomes part of Mai-Chan's lived experience, highlighting the universality of the suffering and pain caused by wars and violence.
Karen Till writes that "third and fourth generations bear witness through their imaginations as well as through their bodies." (Till 212) Sadako's story flash animation is an instance where witnessing is not necessarily connected to one's presence on a site, (children are not required to be or have been in Hiroshima in order to identify with Mai-Chan), but rather depends on the appeal to the imagination of its viewers.
In contrast with the interactive tourism of the Hiroshima Peace Memorial Museum, many of the readings for this week's class dealt with physical sites, such as the Memory District, the Tenement Museum and the Cambodian sites, Tuol Seng and Choeung Ek. While these are all sites that focus on a relatively distant past, I am interested in how memory and history take shape and are represented close to the time when a historical event takes place. I am thinking of Prof. KGB's "Kodak Moments, Flashbulb Memories. Reflections on 9/11," in which taking photographs, and the digital camera, represent the immediateness of how a site (in this case, spread out all over New York!) takes form. The "New New York" becomes a controversial site: on one hand, there is a return to the past, where Prof. BKG finds a Soho that looks more "like the pioneering 1970's than the Soho of the affluent 90's." (BKG 20) On the other hand, after 9/11, authorities in the city are more focused than ever on creating boundaries, stopping people from photographing, removing spontaneously sprung memorials, and heightening security.
It feels like the instance of 9/11 provides an incredible opportunity to look closely at the way history is produced. Which voices are allowed to speak? Who can visit the site? Which cameras are taken away and which images are endorsed and encouraged? At a time when filming/recording/photographing technologies are available to more and more people, the stories that these images can tell directly contribute to the way history is shaped, creating a complex picture as suggested by the Here Is New York exhibit.
Additionally, with the security restrictions brought on by 9/11, being a tourist has changed drastically in New York, and in general. The ghost of 9/11, so closely related to the airplanes that hit the towers, casts a shadow on transportation itself, as disembodied subway voices remind us to "say something if you see something," and airport controls remind one of high security prisons. The tourist industry itself experienced incredible losses after 9/11, and New York has had to produce a new image of itself in order to attract people as it used to. This production, the post-9/11 New York, started immediately after the towers were hit by the planes. For instance, several museums cancelled, changed or revised their exhibitions. (BKG 24) As the New York skyline physically changed, so did its cultural representations.
In regards to the memorialization of traumas, I was interested in the recurring difference between American perceptions of the Holocaust and how these were challenged by sites such as the Topography of Terror. The different cultural expectations around the site reminded me that trauma is experienced and hitoricized differently in every culture. As a result, Holocaust memorial sites in the U.S. are different from those you might find in Germany, particularly in Berlin, and in other places around the world. The ideology behind the production of the site determines the focus for the memorial. Furthermore, while the memorialization of the Holocaust can provide a reference point for other institutions and sites, each situation will be different. For instance, while the Holocaust was a direct result of the actions and relations of humans, a memorial for those who survived or died in the Tsunami cannot emphasize human volition behind the tragedy in order to prevent it from happening again. The words "Never again!" might not be so useful when dealing with natural phenomena, while one could focus on how to improve aid in a preemptive perspective.

Posted by Beatrice Barbareschi at 05:00 PM | Comments (0)
Final Project
Hi Everyone,
I know most people by now know what they are doing for their final project, but just incase, I would love to work with someone on evaluating a Good Friday procession.
I am trying to decide between two really interesting ones here in the city:
This first one goes over the Brooklyn Bridge and ends at Ground Zero. Here is the web site: www.wocbrooklynbridge.com/home.html
A guy at work gave me the email of someone to contact if I want to look at them.

The other one is 'Pax Christi' and they do the stations from a social justice stand point. Starting at the UN and ending up in Times Square at the military recruiting office.

Here is their pamphlet
As a blog
stationsofcross.blogspot.com
or pdf on their home page
www.paxchristiusa.org/StationsoftheCross.pdfhttp://www.paxchristiusa.org/
As BKG wrote me "The first one for its dramatic setting in the city and itinerary and the second for how it maps war and political protest onto the ceremonial heart of the city."
So if these catch anyone's interest and they would like to collaborate, let me know!
Best,
Tara


Posted by Tara Good at 04:34 PM | Comments (0)
Thanotourism and Play
In late summer of 2005, my sister, Meghan, her boyfriend, Christophe, and myself toured Berlin. Wandering south of the Brandenburg Tor, we came upon an expanse of rectangular columns. At the edges the columns were so low that one could climb upon them, but as one entered the expanse, the ground sloped away, and the columns rose to tower over us. Finding no prominent markers with which to organize our experience of what we were seeing, we initially interpreted this construction using our past experiences of public spaces in Europe -- here was yet another piece of abstract public art, an interactive sculpture, perhaps with some specific thematic content, but most likely intended to enliven this particular city square. Interpreted thusly, the columns became a playground, as Christophe leaped onto one of the lower ones, and quickly traversed towards a precarious perch atop one of the taller columns deeper in the square. It was at this point, that a passerby, with a few sharp words (I forget if it was in English, or German with such an inflection that we immediately got the point), indicated to Christophe that he was busy desecrating a holocaust memorial.
Embarrassed, he dismounted, and suddenly the protocols of our visit to this space changed dramatically -- our attitude became one of quiet contemplation. I was somewhat surprised, though perhaps I should not have been, to notice similar patterns of behavior in the youtube video of the memorial included with this week's readings. In that video, as the narrator/tourist somberly intones the official import of the site, we see a couple sitting on one column, and children scampering throughout the memorial -- ostensibly playing hide-and-go-seek. The stark contrast between the narrator's approach to the memorial and that of the children (not to mention the contrasts of my own experience) left me with a sensation between disquiet and optimism. Disquiet over the ease with which the site could be 'misinterpreted,' and optimistic with regard to the facility with which humankind can overwrite its horrors with joy and celebration.
Thinking on this event and these readings I was also reminded of this short (approx 12 min) film by Bob Odenkirk:
Derek and Simon: The Pity Card: Part 1, Part 2
The film opens with a man describing a particularly disappointing recent first ate to his friend -- taking a woman to the Holocaust Museum (a tough enough first date on its own), only to discover that she had 'never heard of' the holocaust. In this film, an instance of thanotourism activates most of the comedy and humor that follows. How or why is it that thanotourism has the capacity to open so easily onto moments of playfulness and humor? A subplot in the film follows a Civil War re-enactor describing his experiences with 19th century battlefield medicine and disease, perhaps suggesting that temporal distance can render a comedic response to atrocity that much easier. I don't know that this is necessarily true.
Could the ludic response to a memorial of this sort rather indicate an instance of inherent human Bakhtinian carnivalesque -- a drive to reunite life and death, to present them as a unified whole? (I like Bakhtin, but I'm not convinced by this interpretation) Alternatively, could it have to do with Paul Williams's observation that "the [killing] field is also a kind of representative void, not only because it is a place of loss but also because the excavation of the graves has undermined its significance as a burial site." (Williams, 247) Could it be that when faced with a void (be it physical or emotional loss) of this sort, the human thing to do is to fill that void, optimally with a joy that had previously been lacking in it.
This notion of void seems to predicate many sites of thanotourism -- taking an unorganized tour of Katrina devastation, it was a void, absence that we were viewing. In Hue, in Vietnam, again bombed out craters were the site. Williams's essay reminded me of many of my tourist experiences in Vietnam -- touring the tunnels used by the Viet Cong (here again, playfulness emerged, these tunnels were an adventure, a jungle gym -- not a rudimentary bunker system that with any luck saved many many lives from american bombs), or wandering through the small museum that remains on the site of the 'Hanoi Hilton' prison complex (most of that site is now condominiums, the void refilled, while down the street the Hanoi Opera Hilton is open for business). In fact, even taking in the landscape of Vietnam could be considered an act of thanotourism -- admiring the eucalyptus forest that now covers most of the country, one might be reminded of the fact that some 40 years ago the nation was covered in lush rainforest, rainforest destroyed by the liberal use of agent orange. In this sense, I think these eucalyptus trees present an elegant metaphor for the role of humor and play at such sites of conscience -- they are life returning to the void. (though now that I've written that, it seems once more to be to romantically facile an interpretation)
Posted by James Ball at 03:58 PM | Comments (0)
March 23, 2007
Resonating Sites of Living Memory
Dori Lubliner
Tourist Productions Blog Entry #7
March 23, 2007
In thinking about the Jewish history museum as centralized within a memory district compared with a meta-memorial like one of the concentration camps, it is particularly significant to differentiate how tourism functions in these two different kinds of memorials. The Jewish museum, topography of terror and the holocaust memorial are part of a corporately produced mega-memorial attempting to "publicly acknowledge national guilt, commemorate the suffering of victims, and represent the history of the perpetrators in a national capital" (Karen Till, 197). The major issue is one that echoes of many such projects around the world, even one like Colonial Williamsburg; a site that condemns a horrific past while still framing the living museum through the lens of the perpetrator (for lack of a better word). It is all fine and good that the countries of the world should consistently work to find a positive way of conveying historical atrocity; however, in the case of the holocaust, it is difficult to accept a multi-million dollar project that is financially supported by the government and actively taking resources away from less grandiose memorial sites like Sachsenhausen.
Karen Till very astutely points out that trace; evidence and eyewitness are three key components to an authentic representation of a historic site. She says that "place as metaphysical subject, the last survivor, the real and authentic material site, is a trace defined by the future" (Till, 211). In my experience, no museum, even the new and improved Yad v'shem in Israel can match the indescribable feeling of standing next to a mass grave in a concentration camp. While the memory district is definitely not a negative response to a most challenging cultural situation for Germany, it cannot have the same 'haunting' affect as a place that is a memorial in and of itself. In the account of the Jewish museum prior to its opening, I agree with the scholar who describes the lack of anything but jagged edges, empty walls and uneven ceilings the most resonant of that which we do not have the capacity to fathom in its entirety, "places of memory haunt because they cannot be easily classified in time and space" (Till, 218). I think that the inability to know history in any kind of totality is similar to the impossibility of knowing a memory, they are both ephemeral and to an extent beyond understanding. The best that can be done is to allow the space to perform itself, to echo the past without any artificially created additives. There is nothing like visiting Treblinka (site #2 the extermination camp), outside Warsaw with its beautifully silent wilderness surroundings, then glancing at a sign that says the expanse of green in front of me is actually a mass graveyard. Even without the sign, the place reverberates with horror and sadness; the juxtaposed images of the forests and the gas chambers are enough to incite an involuntary physical reaction to the site's memory of itself.
It is interesting to contemplate the possibilities for other thanotourist sites around the world when considering which kind of monuments or memorials are the most 'authentic' or more appropriate than any others. When designers were competing for the commission of the new WTC towers and memorial, many people suggested that the large, empty space in the middle of lower Manhattan is the strongest way to convey the essence of a memorial site. The binaries work to give the site its own voice; the silence of empty space versus the constant hum of the city, the lack of building amidst an overabundance of wall, a memory stopped in time against the hectic flow of the quotidian. A site that tells its own story is more authentic than any creation by a savvy "star-chitect". Thanotourism is inherently controversial and the best way to avoid offense or simple negligence is to stop with the artifice of some superior, mea-culpa phenomenon of the memorial museum filled with stuff that says, "This is what happened here, let us never forget so that it never happens again". Would it not be more affective to put all that money into preserving the places that already exist as sites of living memory and using the rest to dynamically make sure these atrocities stop happening? How can we say "never again" when genocide is still very much alive not only in Darfur but in a staggering number of seemingly remote locations all over the world today? I don't think memorial museums are horrible at all, in fact, I've visited many; however, the power of the tourism industry has the potential to redirect its efforts for the benefit of our oh-so problematic transnational, globalizing community.
Posted by Dori Lubliner at 10:06 PM | Comments (0)
Nico on Thanotourism
I am very interested in thinking about how these sites of past tragedies simultaneously help us heal and lock us into the past.

Visiting Tuol Sleng must be very eerie- I doubt that the lack of mediation represents the avant-garde sensibility of the site producers; rather I would imagine that it is due to the fact that some Khmer are still part of the Cambodian government and have not been tried before justice. How much transparency can there be when evidently it has not been possible for the healing process to truly begin? Paradoxically, I feel that rooms filled with pictures of anonymous faces at Tuol Sleng, instead of helping us grasp the severity of what happened do the opposite because it makes it difficult to relate to any one individual. On the other hand, the fact that one is free to roam around the premises combined with the lack of information must make one's imagination work overtime.
I find it interesting that the Jewish Museum in Berlin is such a huge, architecturally significant structure, right in one of the main parts of the city. Perhaps the German people are trying to put behind them a monumental act of inhumanity with a monumental act of creativity. This reminds me of the planned 9/11 site- in this case it is not an introverted sense of healing as in the case of Berlin, but nevertheless, while some would have been happy with a park, the decision has been to build another colossal tower. The process of building is no doubt the time when the process of healing really starts. It is like making art to heal whereby the creative process brings out our emotions and perhaps it is once the monument has been built that we have healed. So this is a paradox: how can the monuments at once be an expression of healing, thus enabling us to move forward, yet they exist for the very purpose of keeping us in the past by reminding us of what happened? Also, for places like Auschwitz and Tuol Sleng, can there ever be healing if instead of building a site, the point here is to keep the very site of murder almost intact? Do these places just take us back to the past or do they also enable us to move forward? Is it perhaps the survivors that give us hope and make us move forward? What about when the survivors have all passed? Will Auschwitz be turned into a formally mediated museum?
These sites are of course very political. How much the Cambodian government allowing locals and tourists to see/experience regarding the Khmer Rouge genocide is anyone's guess. Perhaps if and when the Khmer are tried before justice and are removed from government will we see the Cambodian government build a structure to the memories of the murdered. As Williams notes: "In Cambodia, the absence of public discourse about new monuments and memorials may reflect the fact that the country has experienced little political and public closure, accountability, and reconciliation."(p249)
Why are we so compelled to visit sites of mass murder? For people who come to NYC from around the world, why must they see the hole at the 9/11 site at all cost? Perhaps it is that the images were so shocking- and that by coming to the place of the tragedy one thinks s/he may be able to come to terms with what s/he has seen on television, or photographs in the case of older tragedies. Is it possible that visiting these sites gives us an unconscious sense of "thrill" about seeing "where it happened"- almost like a sense of danger narrowly avoided? Is the tourism industry complicit in advertizing these sites as places of spirituality and remembrance but playing on the tourists' need for thrills?

Posted by Nicolas Daswani at 08:20 PM | Comments (0)
this is worth watching.
http://www.glumbert.com/media/shift
Posted by Dori Lubliner at 04:14 PM | Comments (0)
March 21, 2007
Today in Tourism
This excellent post to the weblog Metafilter treats on the (about to be) newly opened Grand Canyon Skywalk:
http://www.metafilter.com/59636/deliciously-vertiginous-and-grand
it also contains a link to an interesting looking .pdf of an internally (NPS) produced administrative history of the Grand Canyon. And (bonus trivia) the links were posted by 'radical' librarian Jessamyn West, which means she's doing her part to keep your lending habits out of the hands of the FBI.
Posted by James Ball at 01:42 PM | Comments (0)
March 20, 2007
Thanotourism readings for March 26
Here are the readings for next week. Plz let me know if you have any difficulty with any of the links. Will look forward to reading your postings and to our discussions! -b
Download file
Posted by BKG at 08:28 AM | Comments (0)
March 19, 2007
Williamsburg v. LES Tenement museum
This weeks readings lead us to the all important question, education or entertainment? Can you have both? The examples of Colonial Williamsburg versus the Tenement Museum (LESTM) straddle the edutainment divide, with Williamsburg coming off as the hoakier, tourist-oriented attraction and the Tenement Museum as the brianier, immersive educational experience. A key difference may be in how we perceive the corresponding financial structures, although a non-profit, Williamsburg is seemingly very consumer driven, offering easy, well-packaged trips to its visitors, or tourists, you could call them. LESTM's low budget handouts and more intimate approach (only 10 per group) led me to perceive them as more grassroots and more dedicated to the individual education of its visitors. Also, you can choose different kinds of tours at LESTM, whereas at Williamsburg you can only experience the carefully crafted costumed performance.
One interesting facet to compare is the regulation of how interpreters should act towards their audience. Any rudeness (called a courtesy violation) towards a visitor at Williamsburg results in dismissal from one's job. The job requires politeness, naturalness, and the exemption of any personal views from the conversation. Similarly the LESTM asks that all educators treat their visitors, or learners as they are called, with respect, and their methods must reflect constructivist learning practices. Both places provide rules, but the attitudes promoted in Williamsburg are well suited for a customer of living history, while LESTM is for the student.

Each of the historical museums we read about recreate a time period and claim a unique and recognizable space in history. It is important that the Colonial Williamsburg be in Williamsburg, the Tenement Museum and Ellis Island are the actual restored stuctures from historic times, and the word Plimoth has to be in the name of the living historical exhibit of the Pilgrims. The Tenement Museum stands alone in that different rooms within the building are recreated to different historical time periods, thus problematizing the frozen-in-time experience we get from the other places. Not only are they different times, but they are recreated based on the lived experiences of actual individuals and families. The museum of artifacts at Plimoth Plantation serve more to authenticate the living portrayal that to problematize its temporal stasis.
What about the difference between being made part of the performance versus being a spectator to the performance? At the Tenement Museum we become new immigrants, in need of an orientation from Victoria, who has just been through it herself. Both Williamsburg and Plimoth are interactive, but the visitors are witnesses to a scene, time travelers who keep their own identities. At Ellis Island, although there are not actors and we are left to imagine the scenes, we are asked to identify and connect our own stories with the place; its a strange mix of an inflexible fixed time and the changing present that has evolved from this one point in history. The difference (btw LESTM and Ellis) is that at Ellis we are engulfed into a larger nationalistic narrative, and at the LESTM we are presented with a distinctive immigrant experience, one that we can relate to but doesn't subsume our stories. I would say that the role-playing experience is not necessary to impart historical ideas, but in light of LESTM's tolerance mission, I do think there is something worthwhile about trying to imagine what it was like to be a recent immigrant and tenent in that building.
Posted by Cristina Diaz-Carrera at 11:26 AM | Comments (0)
Balg Eun Song's reflection- after the tour
This was my second tour as a tourist with a tourist guide in my whole life(first tour was the sound walk tour in Time square). Before, I depended mostly on the tour guidebooks or maybe I was not that interested in tour productions. As a foreigner from a different culture, this could be a cultural difference, if the fact of the second time sounds weird. Therefore every tour I am experiencing now are, honestly, very unique and special.
Yesterday, I went to the tenement museum and did the combo tour. The tenement museum was a well-reproduced or well-preserved tenement of the Lower East side before they moved to the upper side of Manhattan. Exactly like what Beth S. Wenger said about the Lower East Side in 'Memory and Identity', the museum included dualistic image of Lower East Side portrayed with disgust and Romanism. The first Confino tour was letting us, the audience, go back to the 1917 and make us to meet Victoria. We joined the tour as a performer that was totally different from all other types of tours, which are pretty much like the cramming system in education. Instead of passively listening to the lecture, we had to join in the discussion with our own character. The risk was that we could have missed several things we might have known, if it was a regular explanation. Why do we look at histories and go back to the memory? If the historical truths are socially produced by particular people with particular interests and biases, isn't it better to experience the moment than just learning or memorizing the events? It was also interesting to compare the other tour guide explaining about somewhat negative sides of the period looking from this modern period., The negative parts of the moment was different from the intention of, for example, 'road apples' in Collonial Williamsburg. The tenement tour seemed to me somewhat like focusing on the bad side of the history to prove the good side of this period. In the Confino tour, however, the actress was inside the period so that she could tell us how wonderful the life is even in that poor environment from our modern view.
Even with all of these attractive characters of this tour, I was expecting something more than just a short time discussion with Victoria. For example, putting some one else in the house so that we could see them interact or let us more involved in the works and environments.

Posted by Balg Eun Song at 03:29 AM | Comments (0)
People's histories, people's lives -- Dasha's response.
Where can we locate the archive and the repertoire in these sites where history is continually enacted and reproduced through interactions between interpreters and visitors, museum professionals and nonprofit businesspeople, historians and national narratives?
Handler and Gable's work is impressive in its meticulous and multi-layered analysis of the Colonial Williamsburg enterprise – encompassing curriculum development, the unwavering institutional commitment to "authenticity" and "historical fact", the import of the business side, and the human interpreters that fashion the historical narrative expressed through history-writing and interpretive living history. Their study illuminates the ways "making history come alive" is embedded in a complex negotiation of changing social, political, and economic factors, and provides a provocative assessment of the diverse actors that are continuously shaping and framing the guiding myths and histories of this site – a place which many people visit to experience this nation's history.
In their chapter "Just the Facts", Handler and Gable explore the differing narratives spoken about the slave presence in Colonial Williamsburg. Throughout the chapter, they repeatedly refer to the counterpoint between white and black interpreters' descriptions of the Wythe House and the "undocumented" nature of Wythe's relations with his slave-turned-freed-cook-perhaps-mistress Lydia Broadnax. I found this chapter fascinating because it addressed issues of institutional memory and history versus public narratives and 'myths' – as well as the location of these two currents within the competing racial and social politics of history-making. While Colonial Williamsburg intended to shape a new social history, it in fact, quite often, reinforces dominant ideologies and histories. The interesting dialogue in the "Just the Facts" chapter was the presence of audience members' continued demand for stories – from the interpreters – about miscegenation and the slave-master relations that occurred within the colonial settings. By claiming these were "undocumented" histories allowed interpreters to dismiss these matters as mere "myth", outside the purview of their historically-factual [institutionally approved] narrative. I wonder what kind of effect this experience had on visitors, because they entered this interaction believing they knew something about this time period – something subversive, even! -- and then were told by the authority that this information was not verifiable or factual. Handler and Gable write, "This shows, we think, that in the culture of Colonial Williamsburg, talk about facts displaces talk about what particular histories mean" (93). Recurring throughout their study, it is evident that Colonial Williamsburg is not intent on fostering critical thought about the conditions of history-making, and uses the power of the "historical fact" to isolate its story from the surrounding meanings and motivations of these "facts": "People fight with facts at Colonial Williamsburg. … So dominant, then, is the rhetoric of fact at Colonial Williamsburg that it is often difficult to raise the question of what facts are being made to add up to – of what, that is, particular histories mean." (97)
This presents an intriguing dynamic between Colonial Williamsburg's obsession with documented fact – "the archive" – and the performed reification of these facts – a type of "repertoire". In my last post (for the intangible heritage week) I was concerned with moments of interaction between and conflation of "the archive" and "the repertoire". Last class we were discussing the performance and remembering of "intangible heritage", and this week we are looking at the performance and "making real" of History – with a capital 'h' – as well as histories, individualized. I see this History/these histories as a type of cultural heritage that is made tangible through intangible methods – particularly when people are called on to act within these living museums. Right? If so, there is a process by which notions of history and performances of historical experience produce "living history". And this version of history functions within dominant as well as marginal paradigms. This transfer of the archive to interpretation and then to participant's memories and understandings of history is fascinating, but seems to function within prickly terrain. Especially when one considers the mediating elements that participate in the constructions of these performed archives.
In my experience of the tours at the Lower East Side Tenement Museum, I became aware of another element in this equation – objects regarded as "relics". In the "Piecing it Together" tour, I asked our educator if all the objects we were seeing were found in the Tenement when it was first discovered. He answered that the few objects stored in the display case were found in that particular apartment, but most others were replicas from the time period. I thought it intriguing that the only "real" historical artifacts were behind glass. Our tour was guided by objects as the educator used them to facilitate histories and anecdotes. This was also the case in Victoria's apartment. Sitting, surrounding her, I looked around at the materiality of the apartment – relics, timepieces, images – and wondered if Victoria saw these objects as potential stories just as I did. She used the gramophone (is that what it was called?) to play a foxtrot record tell us of her love for American music and the marvel of this modern machine. I asked her to show us how to dance to it. When she asked our big family what we would do for work, she looked at the youngest boy in the group, grabbed a beanie from the bedpost and put it on his head. She asked if he could speak loudly and said he could sell newspapers – and then picked up yet another object: Ladino-language newspapers from the time.
As BKG discusses objects' role in the museum-theater of Plimoth Plantation, "… 'experience theater' stands in a strategic relationship to the 'theater of objects.' There is a drama in objects – in the processes by which they are made and used" (192). The conversation between objects, interpreters, audience/visitors, and history fashions these productions valuable as educational and national tools. The site and the people involved are embedded in previously-heard and internalized discourses, yet at the same time create experiential repertoires of living history and interactions with objects that fashion new narratives.
In my own experience of Victoria's apartment, I was unable to lose myself, but at the same time was surprised by my fellow group members' inability to grasp their own role in the drama. There were a few who kept asking questions and making comments from 2007. It didn't seem like they were trying to get Victoria to slip out of character – a recurrent type of visitor that Handler and Gable describe, as well as BKG, "Visitors try to tempt the historical reactors to break frame" (198). Rather, to me, they presented a lack of connection to the "Confino apartment" and Vitoria's drama, and kept expecting the traditional straightforward informational tour guide. I found it so annoying! Yet at the same time, being perturbed also reinforced my own positioning as a student-observer in this theater. I kept wondering about Victoria the actress –the woman behind the period clothes and Ladino accent. I became a little sad at my own distancing, though, and I believe that this is a location I often found myself in before this class raised these issues more tangibly. Unable to immerse myself in the ritualized forgetting and participatory theater of tourist productions, I am often treading the outskirts of observation and participation.
This leads me to my recent anxieties concerning my class project. Because I am attempting to critically delve into a community in which I am intimately connected and committed, I am wary about confronting the contradictions within it. Handler and Gable's work both left me feeling inspired by their thorough research methods and reinforced a consciousness of the need to be cautious when working as a scholar with people whom you have personal relationships. Any fieldwork advice or anecdotes about approaching this would be very much appreciated!
On a more theoretical note, my thoughts on the complicated nature of "the archive and the repertoire" in tourist productions and enactments of historical memory are pertinent to my research of the performance of traditional Haitian dance rituals. I hope through fieldwork I will be able to work out my own model to address the ways in which performances of intangible heritage and historical memory function as cultural productions and theaters of belonging.
Posted by Dasha Chapman at 02:03 AM | Comments (0)
March 18, 2007
Williamsburg to LES
I felt that Handler & Gable's text provided a decent methodology and approach to the investigation of tourist productions. The authors balance their approach looking at once at the narratives the museum produces, as well as the experiences and responses of employees and visitors. Especially fascinating was the authors' analysis of the degree to which the discreet discourses and languages of the educators and business-people began to blend or be taken up and used strategically by members of the other group. Unfortunately it was precisely the strength of this level of analysis that lead me to want the text to do more.
In many ways, I felt that Handler and Gable began pointing to ways in which an analysis of specific tourist productions can go beyond their specific site to draw conclusions about the world in a wider frame. In the case of 'The New History...' the study seemed to drift beyond the specificity of Colonial Williamsburg to resonate with my own understanding of corporate culture more generally. Perhaps it is a function of having worked in the corporate world of for-profit education but the bizarre fusion of educational jargon and corporate-speak that Handler and Gable identify is to my mind far more pervasive in large institutions and corporations than the authors let on. Midway through both chapters 6 and 7 I hoped that Handler and Gable would develop their arguments in this direction, and was somewhat disappointed when they did not. In particular, this disappointment was exacerbated by the fact that the particular conclusions they did draw appeared to have little to do with the specific milieu discussed in detail throughout a given chapter, as on p. 207 when they conclude "In the end, then, corporately managed and disciplined frontline employees are a poor conduit for complex historiographical narratives," an argument that would be stronger or make sense had the authors properly traced such a narrative from academic source to front-line dissemination, but that seems a non-sequitor in light of Handler and Gable's astute observations on the front-line training process. But perhaps I am asking too much of the authors, and such further analysis rests in the hands of future scholars. (I did have one other complaint about the book and that was the fact that the authors used the word 'dovetail' or some variation of it just about every 15 pages... I am certain the word has synonyms)
As to my experiences at the Lower East Side Tenement Museum, while others on the blog seem to laud that museum for having solved the issues that Handler and Gable identify at Colonial Williamsburg, I would nonetheless argue that there remained at LESTM issues of the transmission of a proper constructivist program to front-line employees. I would disagree with Handler and Gable, though, that this is an institutional failure, and instead suggest that it is more a problem of constructivist theory being put into practice that needs to be worked out on its own tewrms. As the "LESTM Educational Philosophy" notes, "All learning is centered around the learner -- All learning is based on a construvtivist learning approach. Constructivism is an educational theory that emphasizes the learner's ability to make their own meaning out of knowledge." While constructivism may not be synonymous with the 'Social History' program at Colonial Williamsburg, the two terms do appear to be somewhat conflated in Handler and Gable's hands -- these two fault CW for its lack of provocation and the degree to which it continues to reiterate objectivist notions of history (two elements at odds with a constructivist project). The same could be said of my experiences at the LESTM -- there was little provocation, and the information disseminated emphasized concrete facts, objects and data, not multiple or competing interpretations. Again though, I think this is a function of constructivism's very noble democratic/populist emphasis on the educational consumer. 10 polite, respectful tour-ghoers are not going to really push the tour guide, and our questions to Victoria were naturally more fact-based (how much did this apartment cost?) than interpretive or qualitative. Ironically to properly enforce a constructivist project, one would likely create an oppressive or autocratic situation directly at odds with the underlying philosophy of constructivism.
Posted by James Ball at 11:35 AM | Comments (0)
March 17, 2007
on The New History in an Old Museum
As the Greek philosopher Heraclitus said: You can't step into the same river twice. Time keeps flowing forward, so does the history. Constructionist or progressively realistic, what can the historians do to document the fluid history? Or why don't we just document the present, which would soon become our past in the next moment?
The Colonial Williamsburg is not building a past, but a here and now; or, it is building a here and now through interpreting the past. If we intend to represent the past, fetishism is unavoidable – to collect as many material facts as possible and keep wondering "where fact ends and interpretation begins" (1997:81). The authors of The New History in an Old Museum, Richard Handler and Eric Gable, found the here and now of the Colonial Williamsburg – they are more interested in the living people, the frontline of the museum, who interprets the material facts. Their ideas about the institution and the past are more authentic than the given interpretation of the material facts. In this way, however, how to interpret these ideas becomes another problem.
Posted by Chia-fen Chang at 11:04 PM | Comments (0)
Display or Buffet?.. It was lunchtime, we were hungry.
I remember visiting Colonial Williamsburg as a child during a family vacation. In this one area there was a table full of food with no guide around. My dad walked up and started eating a few bites encouraging us to the same. Another family walked by and joined in. We were not impressed- it was cold and tasted old. A historical interpreter's voice became audible as she entered the area describing the typical food the colonists ate. We snuck away as we realized we were eating the display. Whoops! What's 'real'?

At the Lower East Side Tenement Museum I volunteered as the mother. Immediately as the guide caught my eye and I agreed to be mother to the 12 others I felt myself slipping into the role. It was interesting to ride the edge of obvious fiction and the ordinary realty. The demands of motherhood set in quickly. As we were walking up the stairs to meet Victoria, one of my children- a woman at least 30 years my elder- began to complain about needing to use the bathroom. I pulled out a surprise response from my repertoire, "your gonna have to wait!" Another child asked if we were "there yet." It was amazing to see how accessible these roles were. Also as the mother I felt a certain responsibility to be alert and present- ready to articulate the need of the other 12. We met Victoria at the door. She looked down the hall at all of us and commented on the size of the family. I felt the invitation for playfulness when I responded that we (Jim and I) started early.

Victoria was patient with her speech, staying in the role of 14 year old. I thought it would be an interesting position to be in to represent a person living a life that is long gone. There are many subtleties to juggle- like answering contemporary questions with a perspective anchored in an imagined history. The tour guide that prepped us in the basement said to ask time appropriate questions- like if we were to comment on the emergency EXIT sign Victoria would not be able to see it. There was an element of time-travel fantasy that was fulfilled: What if you could go back in time …or from Victoria's perspective: what if a family came into this apartment that were visiting from the future. I became interested in when, if ever, there was a collapse of role or from Victoria's perspective what constituted failure.

Having finished the reading since I went to the two tours last weekend, I realized that there were several thoughts that came up on the tour that were then extensively discussed in The New History in the Old Museum. One of these ideas was the inescapable fiction standing in for the temporally absent. As I mentioned earlier, I felt a sense of playfulness, which was permitted by the framing of the tour. The guide in the basement laid out the guidelines for this game of fiction. Framing it in this way permitted me to experience our interaction with Victoria in the way of "as if" or "as though." A danger that Handler and Gable pointed out with Colonial Williamsburg is the framing that encourages a reality that represents the museums version of history with an authoritative accuracy.

Perhaps it is the scale of Williamsburg that necessitates every aspect of the historical to be represented, even if gaps of unknowns are filled in with the possible or the imaginative. Concerning these gaps or the flexible interpretation, it was interesting to read when fictions were overlooked or supported in the "uncritical retailing of some old American myths and dreams" (221). There was an eerie freedom that some of the interviewed historical interpreters felt that they had when deciding what stories to tell and how to tell them. In this way interpretation assumes its looser qualities, able to adjust to subtle (or obvious) political agendas. In the way that Handler and Gable laid out the book there were tensions between freedom/ interpretation, entertainment/ education, fact/ fiction, and interpretation/ mediation. I thought the authors thorough approach tracked well the conflicts involved in producing history. To be on the frontline (in the position of mediation between the past and present) while selling the experience as 'authentic' creates a dynamic that enables the interpreter to act simultaneously as portal and filter as they educate the people of the future from a fictional temporal displacement.

Posted by Claire Duplantier at 09:04 PM | Comments (0)
Tenement Experience
I visited the Lower East Side Tenement Museum last weekend participating in both the Confino tour and Getting By tour. I was intrigued by my visit for several reasons. One being that the last time I visited this museum was five years ago when I came to New York for spring break with my father. With my most recent visit, I had a whole new perspective on the neighborhood, the city, and the experience of being a tourist.
I visited the Lower East Side Tenement Museum last weekend participating in both the Confino tour and Getting By tour. I was intrigued by my visit for several reasons. One being that the last time I visited this museum was five years ago when I came to New York for spring break with my father. With my most recent visit, I had a whole new perspective on the neighborhood, the city, and the experience of being a tourist. I was also now touring the museum as a graduate student, critically examining my experience, and I was the only person under about 35 years of age on my first tour (the one of with Victoria Confino). It just so happened that both tours were followed by "Kitchen Talks", where we were able to gather in a separate room and have a discussion with a member of the museum staff. Unfortunately, I wasn't able to stay for the Getting By talk because I had to leave, but I was able to stay for a portion of the Confino tour talk before I had to duck out to attend my second tour.
I had never thought of Living History very critically until I read Richard Handler and Eric Gable's book. In fact, in high school, I participated as a volunteer in a living history day at a preserved Fort located in Washington State. At that point, I just thought it was cool that I got to wear a 19th century style dress, learn how to spin yarn, and watch a blacksmith. At that point, I'm sure I felt like I was participating in history, but during my living history tour at the Lower East Side Tenement Museum (LESTM), it just felt fake. Perhaps I was especially aware of the social construction of Victoria in her apartment, but I think the hardest part for me was being given a role to enact. We were told that our group was a family just "off the boat" having arrived at this particular tenement, and my group decided that I should be the "Mama", though no one volunteered to be the Papa, so that felt awkward. For me, the role became a burden and inhibited my appreciation of the experience. I just wanted to sit down with Victoria and ask her questions, when instead I had to pretend to be someone whom I felt no relation or connection to. However, that fact that we were given a role completely changes the experience of the tour, in comparison to Colonial Williamsburg and Plimoth Plantation, for example. It permitted Victoria to engage with us in a way that made some sort of sense in her situation.
LESTM differs from the way Handler and Gable portray Colonial Williamsburg, in that I believe critical thinking is encouraged. While LESTM wants its visitors to have a positive experience ("good vibes" that Handler and Gable address), by connecting the experience at the museum to today's immigration situations (which happened in the Kitchen Talks specifically), museum visitors are forced to think critically. However, this critical thinking is still within certain boundaries. During the talk after our visit with Victoria, the museum guide asked us how the experience of being immigrants just arrived in America made us feel. I brought up the fact that I had a hard time buying my situation, and it seemed the guide just dismissed this response because it wasn't what she was looking for. When a fellow visitor described his experience (Victoria handed him a pan after he said he felt sick from the trip and this "brought up the immediacy of the situation" for him), the museum guide reinforced his comment—it seemed this fit into the boundaries of our kitchen talk, perhaps because it wasn't critical of the construct of the tour itself.

Posted by Rebekah Steinfeld at 08:36 PM | Comments (0)
OUR MISSION IS:
TO PROMOTE TOLERANCE & HISTORICAL PERSPECTIVE THROUGH THE PRESENTATION & INTERPRETATION OF THE VARIETY OF IMMIGRANT AND MIGRANT EXPERIENCES ON MANHATTAN'S LOWER EAST SIDE, A GATEWAY TO AMERICA." (LESTM brochure)
As someone who works in the Development department of a well established NPO, I am quick to procure and analyze materials intended to provide information/ solicitation. I must say that the mission statement of the Lower East Side Tenement Muesuem is one of the most direct, all encompassing, carefully crafted I have ever seen- very well done. Perfectly and prominently announced on the front of their brochure, this statement covers it all.
Citing the fact that the tours aim and premise is historical, this statement also provides some "artistic wiggle room' through the use of the world "interpretation". While on the "Getting By Tour", our guide Steve ( Brooklyn native) clearly had a fixed way of how to conduct the tour and deliver the information. He was studied and rehearsed, sharing a generalized version of the LES history so as to appease every variant of tourist.

My experiences as LES were reminiscent of when I was an actor at the Orlando Regional HIstory Center in Orlando, Florida. Working there for over a year, I primarily portrayed three different characters: 'Florida Cracker', 'Tin Can Tourist', and 'Timucuan Princess'. As an Orlando native (which is a rarity) I felt a certain sense of access to the work (perhaps because it was my 'heritage'?) but I wonder how other non-locals would perceive performing the various stereotypical roles. I began to think deeply about what was being taught to students and patrons, and my role in the transmission of information, as well as my mediation with their museum visit. Handler and Gable find that what is preported as 'historical truth' is actully a social production created by a group of people with like interests. (4) I read this to mean that historical facts are not necessarily based on facts, but on consensus.
Understand, that I have never considered museum contents, contexts, and mediations through the lens of Performance Studies (I imagine many of us have not, until this class). My thoughts continue to lead me back to the question of how musuem audiences receive- " accept, resist, or reinterpret- the messages museums convey?" (9) How did audiences recieve my performance within the context of the museum, with the script being based off of information provided by in-house reserachers?
If "curators, historians, archeologists, archivists, and librarians work backstage to provide the information, stories, and programs the museum conveys to its public "(18), then that means the success of my performance was in their hands. I served as the "living history" element of the musuem, but my job was dependent on the information gathered (and agreed upon) by the aforementioned collective.
My memories as a "living history" performer speak to the Goffman model of 'front/back stage' that McCannell cited, which Handler and Gamble invoke in their first chapter. The way in which the docents would bring the tour groups into my performance space was crucial to my entry and exit as a performer, which proves the important melding that must take place between the front/back of the museum 'house'. Also crucial, was my ability to maintain character no matter what questions/situations might arise ( and believe me, they arose). If, as BKG writes, "Modeling is a way of knowing" (95), then my performance, my 'doing', provided visitors with a way of 'knowing', through my embodiment of the research that was done to make the piece possible.
Another point I have been considering is the huge responsiblitiy of actors charged with the performance of 'live history'. In "Destination Culture", BKG cites the 'little game' that goes on between historical performer and tourist. At the ORHC we were trained to answer in character at all times, to react with modern object tools, in a similar manner to what BKG found at Plimoth Plantation. I am troubled by the question that this sort of test as to whether a performer of historical narrative will break character, or "tear the fabric of time" (97) is a mode of analysis some tourists employ? Success of a living history museum is dependent on accurate 're-creation' and the actor (on the front stage) is the face, the ultimate measurement, of how well the back stage has done, as well.
The responsibility or goal of the living history actor is to take the archaeological imagination (the 'archive')- reconstituting wholes from parts- the extra mile (the 'repertoire'). (92) (my interjections citing Diana Taylor). This is most appropriate in engaging the Confino Tour, and the actress cast as/ charged with playing Victoria. Without her historical embodiement, it's all just objects and words. Victoria is the 'extra mile', the bridge, the 'gateway'.

Posted by Jamie Reynolds at 08:28 PM | Comments (0)
THE OLD, WEIRD AMERICA: HARRY SMITH'S ANTHOLOGY OF AMERICAN FOLK MUSIC
Hi tourism friends. A few of us are going to the anthology film archives tomorrow to see a movie or two about Harry Smith. There is a documentary about him at 5pm and then a few films he made following. This relates to our last class when we talked about music/ revivals ect..
Here is a description of the documentary.
5:00 MAGIC IN MUSIC AND MOTION: THE SIGHTS AND SOUNDS OF HARRY SMITH
Rani Singh
THE OLD, WEIRD AMERICA: HARRY SMITH'S ANTHOLOGY OF AMERICAN FOLK MUSIC
2006, 90 minutes, video, color, sound. Produced by Adam Hyman and The Harry Smith Archives.
NEW YORK PREMIERE! FILMMAKER IN PERSON!
Prepare for an eclectic journey through THE OLD, WEIRD AMERICA. Rani Singh's new documentary film tracks the history of Harry Smith's ANTHOLOGY OF AMERICAN FOLK MUSIC from its initial compilation of 78rpm records from rural Americana to its release on Folkways Records in 1952. Instrumental in helping inspire the urban folk revival of the 1960s, the ANTHOLOGY continues to influence modern music. An incredible set of interviewees reveal the lasting impact of the ANTHOLOGY and the remarkable personality of Harry Smith. After the box-set's release on CD in 1997, Hal Willner's Harry Smith Project concerts celebrated Smith's idiosyncratic vision, from Nick Cave's cathartic take on spirituals to Lou Reed's mesmerizing evocation of Blind Lemon Jefferson. The film includes rare archival footage, performances, and interviews with Elvis Costello, Beck, Sonic Youth, Beth Orton, Philip Glass, David Johansen, John Cohen, Greil Marcus, and more. Join us for a wild ride through a remarkable musical landscape.
Posted by Claire Duplantier at 07:54 PM | Comments (0)
"Your hands keep it alive!": my rail attachment and new identity at the LESTM
My favorite parts of the first tour I took, the General tour, were the staircase rail, the wallpapers, and a plastic cockroach. The rail, because holding on to it felt like holding on to the personal imprints of those thousands of hopes that were strong enough to leave behind all that was known, just to be able to cling to this rail and try to make life work better for them. "The rail is from the 1860s, and even though there were all those before you that touched it, if you still decide to hold on to it, you should know that it is the grease from your hands that actually keeps the wood young and alive still nowadays," our guide Diana explained. "So fascinating!," I thought, amazed at how this rail embodied that present and past are best understood as relational categories, because one needs to feed on the other to live and survive.
I have not been to Ellis Island yet, but I tried to imagine the tourist production there, where, according to BKG, "institutionalized memory" (187) has made "a federal procedure the 'symbol of this nation's immigrant heritage'"(Destination Culture: 182). The tenement museum, however, seemed to me anything but "institutionalized memory" or the "imperialist nostalgia" Bruner talked about earlier. Instead, the LESTM presented in a simple, genuine manner the spaces and life-stories of the residents, and then let the visitor direct the exploration through questions, movements in rooms and around objects like bits and pieces we (or at least I did) use to construct a personal version of the personal stories that inhabited the three visited apartments on the General tour.
The wallpaper was my other favorite part of the tour. In some rooms they found up to 25 layers of wallpaper, and some people exclaimed with surprise that they never thought the residents would take that much care to decorate their homes: that just did not fit the idea they had about what "tenement housing" felt like. Indeed, despite the crammed spaces, the rats, and the poverty, in one apartment a German family had painted its ceiling with colorful decorations; in other the father, an Italian, used to plant purple flowers in cheese boxes; and in third, the family kept putting new wallpapers once the older ones got dirty from the stove's ash.
Apparently, aesthetics can flourish anywhere as long as people have imagination in constructing the new, unknown space, found empty and cold, into a new world reminiscent of home. Here, precisely, is where I see one of the greatest strengths of the museum: achieving not to idealize or dramatize the lives of the immigrants but to deconstruct the misinformation people might have had by revealing intimate glimpses into those human experiences. The plastic cockroach, placed on a mantelpiece in the apartment of the Grumpertz family, was a surprising detail contrasting with the statement of the museum that all artifacts are originals of the period – what an interesting way of bringing "authenticity" with the most non-authentic of all artefacts!
Handler and Gable, in analyzing the making of historical Williamsburg, refer to the notion of constructivism as employed by the historians, or, history as a "theme-driven construct" and not "naïve objectivism" (60-61). Constructivism is certainly present at the LESTM in the modes of research of the personal stories and the ways in which they are performed in relation to the physical space, which in itself was defined by our guide Diana as "the canvas on which we tell the stories." It was, indeed, a social history told with layers of layers of layers of (more than 20 kinds of wall-paper of ) imagined memories and sentiments. And when I say imagined here I do not mean that it might not have happened the way we tell it today but things certainly did not occur "exactly" as we speak of them and sense them in those rooms, while at the same time the energies of all those generations pulsated almost tangibly around.
The experience with Victoria in her apartment helped me delve more into the concept of "progressive realism" (Handler and Gable: 70), or the notion of mimesis as the process of recreation of past life-styles. Yet, interestingly enough, the talk with Victoria was in no way a better way of imagining life in the early 1900s than the other apartment of the Grumpertz family that I had visited.
What a fun experience it was to play today the role of a daughter in a Bulgarian Sephardic Jewish family (needless to say, the idea for the improvised group identity was mine)! The actress playing Victoria had an authentic-sounding accent, and it was her occasional use of Sephardic words (which I understood because of my friends Sephardic Jews in Bulgaria) that brought me closest to the actress: she wasn't actress anymore, but felt like Victoria from Kastoria to me. In my mind (both as Nadia the student at Princeton and Nadia the Sephardic Jew immigrant from Bulgaria), I could see the actual landscapes, which Victoria must have last seen before getting on the ship, since her village is only about 2 hours away from my grandmother's city in Bulgaria, across the Turkish border. I could hear the music they all danced to, and feel the nostalgia she must have felt for all that was missing in a reality of over-crowdedness, dirtiness, and depravation.
Yet how enormous my surprise was at finding out that my imaginings did not correspond at all to what Victoria was telling us! There was hardly any heart-breaking homesickness, hardly any painful recollections, but an overflowing excitement with the new life she encountered across the ocean. Which version of the real Victoria's experience was "correct," mine or the one of the actress? How did the actress decide how to interpret Victoria's experiences? And what do the different interpretations add to the story?
I believe both our interpretations are equally pertinent and real, since there is no way we could ever penetrate Victoria's world and know "for sure" how she felt. And it doesn't really matter that much, as long as theater helps people, as Anthony Jackson argues, to forge "an empathetic awareness of, and - even more import – provoking reflexivity and puzzlement about the lives, beliefs and struggles of people of an age fundamentally different from our own" (10). In the discussion after the visit, I found that the enactment of Victoria's story had done precisely this for the group – sparked curiosities and analyses perhaps impossible without that immediate human interaction offered by theater.

Posted by Nadezhda Savova at 07:39 PM | Comments (0)
Our tour group didn't know what "Tenement" meant...
...so it's good we went to the museum!
Richard Handler and Eric Gable certainly seemed to give Colonial Williamsburg the proverbial smack-down! While I did agree with many of their points about C.W. being more apt at re-creating a "Republican Disney World" than an accurate representation of the past, I also related to the folks in Virginia after working at an historical, non-profit theatre—it is very delicate trying to balance between budgets, accuracy, and crowd-pleasers. My memories of Colonial Williamsburg do meet their assessment—I was seventeen on a high school marching band trip (yes, marching band) and it felt very patriotic. I do not remember thinking anything was subversive about the presentation of history, I do not remember any stories about slavery or remember seeing anyone who was not white dressed in costume, and I did indeed buy a trinket from the gift store. I also admit I was seventeen and may have been much more amused at putting my head in the stocks and participating in high school drama than engaging and scrutinizing the presentation around me.
I related some of the reading to my experience at the Tenement Museum. In addition to Victoria's apartment, I did the "Piecing it Together" tour with Beatrice last Saturday. At first, I didn't know what to think of Victoria's apartment—at first I thought it was a bit too Disney-esque, but after the other tour, I appreciated it in a much different light. There are not many venues in which adults may interact in the same learning capacity as children. My tour group was truly steering the tour, and our Victoria was a wonderful actress, which helped the ambiance and the level of comfort for everyone in the room.
The "Piecing it Together" tour for me related most to the section in New History that discussed employees frustrations with visitors. As a visitor, I was much less engaged during this tour. At first I thought it was because I was tired. After further analysis, I realized I was also distracted by other tour group members. After reading New History's account of some of the employee rules of conduct and never being rude to guests, I wondered if our tour guide was also a bit strained because of the behavior of the visitors. The first incident that the guide did not witness, but I did, were two adults who after he guided the other visitors into a room, purposefully, almost spitefully, touched the wall and paper he repeatedly asked us not to touch, climbed on the bed in the back room and starting touching everything in there as they pleased. Perhaps I'm too much of a rule follower, but I was really angry and shocked at their behavior. Another group of visitors was a mother and four young teenage girls. The girls were very respectful, but their energy suggested they did not want to be here and were often looking for a place to sit rather than paying attention. The mother was the real kicker however. I'm not sure what she does as a profession, but I would assume it's in academia—after every fifth sentence the tour guide uttered, she seemed to have an addition or a clarification. She never got to the point of unbearable, and the tour guide was extremely amicable and engaged her in her comments and once, maybe twice corrected or added to the information she announced. I know her behavior bothered me, so I assume that she may have agitated others, mainly the tour guide. He kept his cool, but after I further reflected on the tour and the reading, I wondered if one reason the tour was less engaging was because I could sense some angst within the room.
The "Piecing it Together" tour was definitely NOT a glamorized view of the country or the politics. Something I really appreciated was the fact that the tour addressed garment factory and production violations in the time period and today. I thought this was especially important to address, after seeing terrible working conditions around the world (like other students who went to Peru witnessed). As a tourist, I almost wished that part of the tour could focus a bit less on the hardships of the families and a bit more on daily lives—like Victoria's apartment. The actress was able to tell us she slept on the floor with the rats without asking for pity—this seemed much more touching than an address that attempted to force tourists to be thankful for their rat-free beds.
In my opinion, The Tenement Museum was much more subversive and engaging than Williamsburg, and what I think is neat is that this is the goal they strive to achieve. Williamsburg, however, may never be able to escape its "squeaky-clean" patriotic image that attracts visitors each year. I remember always wanting to go to Williamsburg when I was little, and when I went, it was exactly what I thought it would be. The Tenement Museum I had no idea what to expect and was pleasantly surprised. It was really creative and enjoyable.

Posted by Aralene Callahan at 05:43 PM | Comments (0)
Nico on readings and Confino
I have just come back from the Confino tour with my wife- and met Nadia there too. I had been to the Lower East Side Tenement Museum (LESTM) before for the general tour but this was quite different considering that I was able to talk to someone "from 1916". I was stunned by what a great actress Victoria was, and I realized that what made it feel very real was not the fact that she knew every detail about everything, but on the contrary, that as a 14 year-old, she knew some things but her knowledge was limited, for example she could not explain to us how a car engine worked when we asked her, after she told us about this thing called the "automobile". I was not able to completely loose myself into a feeling of being in the past but after a while as a group we did start to feign surprise at things like dance hall music and the existence of the nickelodeon. We became participants in the content of the exchange, and I also had a sense that we could have stayed there all day and Victoria would have continued to be herself with us- it felt like her knowledge wasn't learned. Although there is much care put on to create a type of total environment once inside the apartment with Victoria, the museum seems to be interested not just in the sensory experience but in the way that the experience can spur discussions and make us think about the present condition of immigrants. Thus, the LESTM has a completely different agenda from the Ellis Island museum as BKG describes it. There it seems that all the immigrant experiences are "melted" into one joyful affair, and the feel good is carried out through tacky merchandise that is supposed to represent diversity.
The LESTM makes it clear in its encyclopedia that it is unable to represent the variety of immigrant experiences and chooses to focus on case studies of what life might have been for some. It gives great details about each of the members of the families it chooses to describe; it is keen to expose the hardships of immigrants; and as can be seen in the Educator Training Program book, the educational philosophy puts a strong emphasis on the role of the educators, as the museum knows that the educators play a large part in mediating the experience. The Ellis Island museum does not seem to put in such care into its staff, as is shown by the mention of the great country of Parisia to BKG by one of the hostesses there. After the visit with Victoria we had a discussion with one of the educators (which I felt actually went on for too long) and this shows that LESTM is not concerned with breaking any mystique- it uses the experience not as entertainment in itself but as a means to more enquiry.
What is interesting to me is that on a typical tourist roadmap, the LESTM and the Ellis Island museum are grouped together as sites of the "immigrant experience", yet the intentions and philosophies of the places could not be further from each other. BKG's question in Ellis Island p177:" Can the perfections of the restoration mitigate the imperfections of history?" is very central to all this and comes back to the question of the intentions of the producers. At the end of the day, what is the purpose of LESTM? of the Ellis Island museum? Plimouth Plantation? Colonial Williamsburg? LESTM comes across as very focused on its purpose, but the struggles that Colonial Williamsburg has in terms of re-writing the history and the roles of the people on the "front lines" indicates to me that their sense of purpose is not clear.
As for methodology used by Handler and Gable, I found it very informative and tried to think about how to use these methods on the scale of my project. Things like audience responses are question marks for me. I could probably get a handful of surveys from people taking the Big Apple Greeter tour, but is a handful enough to inform me? Besides, the questionnaire would be after the fact, as Handler and Gable point out. I thought it was very helpful to see how they did not just focus on what was going on at Colonial Williamsburg between front line people and visitors, but incorporated the context of the producer, the non-profit that runs the show, as a way to understand the overall production. I think that in my case, studying the organization and its relationship to greeters (internal)- and how it mediates the experience through the application form, marketing, etc (external), will be necessary and will make this more interesting for me.
Posted by Nicolas Daswani at 05:21 PM | Comments (0)
Eric's response of reading
To be honestly, the Statue of Liberty and Ellis Island are my first impression of America since I was a child. Meanwhile, they are not only tourist site but also the icons of America for me. However, after reading the history about the immigration to America, it's no longer a tourist site but an alive space which contains the bloody history of the immigrants whose hearts full with the wonderful dreams to a new continent from their home country. Therefore, I never go to the Ellis Island and the Statue of Liberty since my first time to New York

In BKG's "Eliss Island", it figures out the relationship between the public/immigrant history and the tourism at the same site. It reminds me to revise the New Park (renamed as 228 memorial park nowadays) which bears the two-fold struggle of sexuality and ethnicity at the same time. New Park which is the most important landmark and gay space in Taiwan, its location is not only in the heart of Taipei City but also the main administrative area in Taiwan (i.e. President Hall and other departments of Government). Besides, it is also the famous gay gathering place for many years. But, it is also the main space of 228 incident (1947) in Taiwan. In 1986, Taipei city government decided to rename New Park to 228 Memorial Park in order to memorize the 228 incident. However, this decision arouses the opposition from the gay communities in order to ask the government to face the human rights of gay men and the alternative sexualities. Furthermore, it also reflects the intersection of sexuality and ethnicity which happens to reveal at the same site. Therefore, I am thinking about the relationship between the tourist sites and the collective traumatic experiences. It seems that the tourist sites are in related to the history, most of them will be the registers of collective traumatic experiences.
For more information, please see:
New Park/ 228 Memorial Park http://en.wikipedia.org/wiki/228_Memorial_Park
228 Incident http://en.wikipedia.org/wiki/228_Incident
Posted by Ching-Yao Luo at 04:05 PM | Comments (0)
Beatrice- LES Museum and readings
My tour at the Lower East Side Museum consisted of a combo of the Confino Family tour (where I met Victoria,) and the "Piecing It Together" tour, focused around sweatshops and the garment industry. As the tour started, our educator encouraged members of the group to share any personal history related to Lower East Side tenement housing. She quickly linked the couple of stories that came up with the larger immigrant experience of some of the Tenement's inhabitants.
This first step really framed the tour for me: it seems to that the Tenement museum, to some extent, is part of what Prof. Kirshenblatt-Gimblett describes as a competition amongst other sites "for the status of definitive master narrative." (Destination Culture 200) On one hand, the tour and the educators I met took great pain in describing the specific family whose background was being recreated in the different apartments. Yet these families, however specific in their history, also worked as ghostly stand-ins for the larger immigrant population in the Tenement and in the neighborhood. It was not surprising, therefore, to discover in the Educator's Introduction, that the LES Museum has been twinned with the Statue of Liberty and Ellis Island. Yet the museum's focus on the domestic aspect of the immigrant life, marks the Tenement Museum's difference from the other two sites. It is a private space become public: as an audience we are given the voyeuristic pleasure of entering a space that would have been forbidden (and probably not desirable to visit) at the time in which the historic clock of the museum is stopped. Would similar tour be created for the house of a contemporary Chinese immigrant in China Town? Would it be politically desirable? It seems like the Tenement Museum's temporal situatedness informs it with the excitement of a past not so far gone (so as to attract immediate descendants of the immigrants who experienced tenement housing), yet far enough that it can be made into a narrative supported by the government (and not as politically threatening as dealing directly with present day immigration).
One of the attractions of the Tenement Museum is the way it romanticizes the past of the immigrants. Similarly to Colonial Williamsburg, in order for the tourists to support and come to the Tenement Museum, the conditions for visiting the space are sanitized. So we walk into the Levine's apartment where we are made to imagine that Mrs. Levine is about to give birth, yet the apartment is quiet and there is plenty of room around for the visitors to stand and get a glimpse of the Levine's home. Framing "Piecing It Together," between the birth and the death of immigrants in different families increased the sense of the epic in my experience of the tour: while it is true that the educator's story-telling focused on the difficulties and horrors of the garment industry both today and at the time of the Tenement inhabitants, the stories of the families became romantic tales about the immigrant experience, with birth and death as two events which are universal to all.
The Tenement Museum also creates a space where the mediation by the museum workers on the objects in the rooms, makes it appear as though the objects themselves were somewhat desirous to speak to you: placed neatly around the rooms so as to be visible, yet not clearly on display. In a domestic setting, the exhibition of these objects is intimately connected to their users, the inhabitants of the apartment, and the educator's portrayal of the stories of the families made it feel as thought the inhabitants, just like the objects, could not wait to be put on display. This became problematic to me when, after the tour, an elderly woman in my group told me how difficult it is for her to get stories about the Lower East Side from her mother. "You know for her, it's like nothing," she told me. The woman's story made me think about the intimacy of the families portrayed in the museum and the way their stories have been framed for political ends (i.e. supporting the museum's interpretation of history.)
In fact, the question of intimacy and display is one that I missed in the ethnography on Colonial Williamsburg, where the private spaces where made visible as much as the public spaces. In their ethnography, New History in an Old Museum, Richard Handler and Eric Gable outline the focus of their work in the first chapter. The questions they are asking revolve around three main issues: cultural representation, the ideologies that underpin or are reinforced by those representations, and the role of the audience in the experience of Colonial Williamsburg. (Handler and Gable p 8-9) I found these three concerns, and the political questions that they brought up, to be a great starting point on their analysis. New History in an Old Museum brought up many issues which related to my experience of the Tenement Museum, particularly as I became more aware to the extent to which a museum has to imagine its audience and mediate between attraction and education of the public.
In the light of New History in an Old Museum I thought again about my encounter with "Victoria Confino" at the LES Museum: how is Victoria's performance framed for the visitors? And how are we, the visitors, expected to relate to Victoria? Differently from the Plymouth virtual exchange between visitors and pilgrims described by Prof. Kirshenblatt-Gimblett, when visiting Victoria our group was placed in a specific role (a just-off-the-boat family) and made to pretend we were in her same time. As a result, we were prompted to ask her the questions we imagined immigrants would have. In my experience, this framing limited the range of questions we could pose to Victoria. For instance: we were an Italian family from the early 20th century, so how could I ask Victoria about her sex life? On one hand, it felt as though we were really meeting Victoria Confino, yet the frame through which this was happening was very structured and defined how we would perceive her historical character.
Overall, reading New History in an Old Museum made me very aware of the importance of a continued study of a specific site, one in which many occasions of communication open the possibility for spontaneity and slippages in the conversations with participants of the museum. The tours themselves, especially if experienced only once, have all the energy of something that is novel. The novelty of the experience can easily distract one from making more detailed observations about the subtler dynamics of the museum and, particularly, about what decisions happen behind the scenes (in that back space defined by MacCannell.)

Posted by Beatrice Barbareschi at 03:24 PM | Comments (0)
Matzoh balls as big as your head! / My time with Tara (the personal narrative post)
Tara and I had the most delightful time figuring out the protocol of this amazing delicatessen last week. Handed a blue ticket upon our entry into the culinary time machine of Katz's, a Lower East Side staple for nearly 120 years, we realized that as 'first timers' we would need the help of a waitress to guide us... and guide us she did!

I used to live in the East Village and had been to Katz's years ago, but never eaten there because at the time i was a vegan/vegetarian and figured it was not a place for me to dine. Nowadays, I do eat the occasional turkey and swiss on rye, so I thought I'd give it a shot. A cherry Dr. Browns soda started off my feast, and we decided on the ½ sandwich-cup of soup combo, along with an order of latkes with applesauce & sour cream (yum!). The pickles were divine and matzoh ball soup was delish, with the biggest matzoh ball I've ever seen!
Filled to the brim, we settled our tab, grabbed a couple of coffees for the road, and presented our blue tickets in order to grant our exit. (We're a little baffled by this practice of the blue tickets in order to mediate patrons comings and goings. Does anyone know how and why this is, and if it's always been this way??)
Needing to walk off our lunch, we made our way to the LES Tenement Museum. As we walked the streets, I could not help but notice how much the Lower East Side had changed since I lived there years ago- the posh stores and boutiques, the shi-shi cafes and bars- it did not feel as friendly. It felt confusing-- as if I needed to know my purpose before heading down there: Am I here to buy a $700 handbag or am I hear to get a get a $2 knish? There used to be great thrift stores and dive bars, but now it just seemed like Soho had bled across Lafayette, creating an elitist air.
After our visit to the LES museum (which I will engage in a later post) Tara and I set out to locate the Eldridge Street Synagogue. We knew it was closed to the public but wanted to at least see the architechture of this historical landmark. Almost stumbling on it as we perused the blocks of Chinatown, we took a moment to observe its odd situation within this environment, the sun shining on it in such a way that made it look like a facade, surreal.
On our way back towards the train, we stopped in a Chinese Buddhist Temple that Tara had noticed as we headed south. I, not knowing how exactly to behave in such a setting, just stepped back and let Tara have a moment while I tried to maintain a respectful manner in the corner, petting the resident temple cat. Watching my friend inhabit this space and bow at the altar in private prayer is something I shall never forget. An unexpected stop on our trajectory, this lower east side moment was the most precious to me. And it made me realize that the company the tourist keeps is sometimes just as important as the tour.
Posted by Jamie Reynolds at 01:42 PM | Comments (0)
March 16, 2007
Living History- For The Sake of Accuracy: John Dietrich
LIVING HISTORY: For the Sake of Accuracy.
John Dietrich
The game is called "Tripping up the historian", or so it would seem, particularly when it comes down to tourism based on authentic realism. "Living History", living in history, is capturing nostalgia but not just the mood but also every minute detail. It often appears, particularly in the case of the studies presented in "The New History in an Old Museum", that Colonial Williamsburg has become so obsessed with "getting it accurate", that the people both employed there and visiting there, step onto a giant trivia game board determined to bust anyone who can't get the facts straight. If anything, the credit lies in an organization that appears to be so concerned with every aspect of authenticity that it constantly reinvents its approach to how it presents its' sacred world. In the same sense that the interpretation of history is ever-changing based on the discovery of new knowledge, the values behind the Colonial Williamsburg experience continue to evolve as the world and society surrounding its' guests continues to do the same. It progresses with the times, to offer an educational and insightful experience that will match the expectation of the today's audience. The only things that you could say are truthful to history are the material artifacts or documentations of the period. The stories behind the facts or artifacts or events will always be to some degree a bias interpretation of the tellers. As is often the case at Colonial Williamsburg as well as at the Lower East Tenement Museum, the interpreters and actors are not scripted but actually draw historical conclusions based on their own knowledge and the situation or question they are faced with. How they choose to convey history, the story, is up to them. Despite all the talk of accuracy, I would conclude the real question is how "complete" the experience. By their definition, completeness is the result of total accuracy. I beg to differ.
The Lower East Side Tenement Museum, particularly the Confino Family Tour including Victoria's apartment became a question of value of experience for me. The Confino tour was a tease, a story with a middle but no beginning or end. Yes, the novelty of the presentation was interesting and solid, but the production was incomplete. The actual apartment experience was preceded by a general historic explanation and at the end of the apartment segment, you expressed your reactions, asked questions and that was it. The overall structure of the tour did not suggest a journey of any kind and at the end there was no conclusion to be drawn. The organizers seemed to want to tempt you with, well if you want to go up those stairs and see what's behind the next door, you need to dish out another $15 and wait for the next tour. The "Living History" device was a solid tool for bringing the past to life, and naturally the responses by the actress playing Victoria, were based on her interpretation of the questions being asked with dire need to get the facts out. It's obvious that every group creates a different world in that apartment and a new interpretation of the story behind the door unfolds.
Handler and Gables book on Williamsburg, although highly intriguing and thorough, seemed a bit harsh when it concluded that Williamsburg is strictly escapism and not history. Like any large organization or corporation or tourist destination, the players involved in the decision making become extensive and the possibilities endless on the right way to present an experience. Particularly when you are talking about an audience that are generally made up of non-historians and non-intellects visiting a "vacation" destination. Colonial Williamsburg has but several hours, in a one-time visit, to introduce them to an experience, to history, to knowledge that fills thousands of books and can take on even a million more interpretations. So the question exists, how do you "connect" to these people, and what is the bare bones understanding you want them to go home with? And often, the means to making the connection also involves things like hospitality, service, and "good vibes". If you don't capture your follower, they will never follow. And yes, for the return visitor who is seeking out a more in-depth historical experience, perhaps there should be a series of different levels of tours, covering more diverse topics and graduating in historic complexity based on the visitors' knowledge. Williamsburg does branch out into more specific tour subjects with the "Other Half" experience in an attempt to reach out into more critical social history. I can no doubt imagine that to Handler and Gable, after returning month after month, tour after tour, doing their field work it became blatantly obvious the infinite possibilities of what could be included in the Colonial Williamsburg experience and what was missing, I wonder what they would have gained, going only once for several hours, like the rest of the world does. Handler and Gable did hit it on the nose when they say "History is an interpretation of the past as we understand it now" but keeping in mind that there is not an audience of one, but an audience of millions.
Posted by John Dietrich at 11:30 AM | Comments (0)
March 15, 2007
Katz's Dinner: "Meat Platter $25 (Serves one local or three tourists)"

Historical attractions function to accomplish multiple objectives. Many of the modes these institutions utilize to accomplish these objectives are by nature contradictory. These functioning paradoxes include: corporate gain and social service, appealing to a specific tourist demographic while proclaiming universal representation. One of the most fundamental contradiction of historical attractions is the anachronism of 'authentic' embodiment of history in real time. From Colonial Williamsburg's strict rules that prohibit historical interpreters from making contemporary references to the interpreters in Plymouth constrained to a seven year time line. "It is the enabling fiction of forgetting that creates the necessary gap between actors and visitors." (BKG 199) In the striving for 'authenticity' the fundamental fiction of the experience becomes an elephant in the room.
Unlike a stage, which a defined boundary and designating of a liminal space, historical attractions endeavor to create an all encompassing experience. The audience is asked to disengage from their reality to experience an assumed reality. Because of the support of historical documents, this reality assumes the label of 'authenticity.' History, by it's very nature is a hypothetical construction. As the historians at Colonial Williamsburg said, 'it's one big jigsaw puzzle'. From documents, to objects, to bones, no matter how accurate the evidence, history is a perpetual approximation. When the audience is asked to step out of their own normative lives and into the construction of the historical attraction the performance of history immediately becomes entertainment.
The Tenement Museum went about the difficult of temporal disjunction in a very different way than Colonial Williamsburg or the Plymouth Plantation. The guide was not referred to as a 'guide' in the traditional sense and he did not take on a personage as did the historical interpreters. He referred to himself as an "Educator," whereby immediately locating himself and his role within the historical re-construction. After introducing himself he traced his own family history with his roots in New York and back to Europe. Next he asked the same of the audience, as a means of having us locating our self within the larger narrative of American immigration that were about to experience. In this way temporal location and identity of the narrator as well as the audience were established and together. We reconstructed the space we passed through according to the historical period through imagination, object remnants and story telling.
In Colonial Williamsburg, the audience were referred to as an invading army, and the historical interpreters were 'on the front lines.' This 'us' verses 'them' dynamic creates an competitive environment, in which if the audience buys into the constructed reality ('buys it' experientially as well as economically) then the attraction wins. If the audience catches historical inaccuracies, such as in the example of the locks on the doors, then the tourist wins. Colonial Williamsburg commodifies the experience of history, which as a commodification, finds it's best value in an escapist amusement. The surest way for Colonial Williamsburg to maintain it's commercial value as an 'authentic' historical escape is in the historical documentation they provide to win the war against questioning tourists.
Ironically, one of the most effective experiences of history that Colonial Williamsburg had offered were the original hostess, who were eventually replaced because they were not historically accurate enough. The management and historians places importance on archival history and over looks another aspect of history which is also being communicated, affective history. Mrs. Sneed and Mrs. Henderson, two of the early hostesses relied on their own innate qualities as southern ladies. Their natural personages, more so than their period cloths, created an affective experience of Colonial times for visitors. An affective experience of history exists subterranean to historical documentation, on a level that people can resonate and interact with history.
As opposed to constructed history, affective history asks, even demands, the audience to interact with sensations with which they are unfamiliar. It in the same sensualist vain as the Sever's House Museum in England. An audience is not convinced of historical authenticity through facts, rather they are impelled to experience history through somatic response. Arguably, this affective response is more 'authentic' than any of the reconstructed locks. One of the most profound experiences I found on my tour of the tenement building was listening the stories of immigrant life, the language barriers, the legal resections, the racisms and low pay, while looking out the widow into Chinatown. The tour guide mentioned that 40% of the neighborhood was still an immigrant population. Correlating my experiences of walking through that neighborhood and feeling transported to countries on the other side of the world gave me a greater insight into what kleine Deutschland must have been like on those same streets a hundred and fifty years ago.
Posted by Tara Good at 08:01 PM | Comments (0)
A Fine Line...
Dori Lubliner
Tourist Productions Blog Entry #6
March 14, 2007
In reading the Handler/Gable text for this week, it is easy to recognize a pattern for large-scale tourist sites such as Colonial Williamsburg in which a past is remodeled and actually remade through modernity. What is most interesting is the way the authors deconstruct the site from all angles, probing into the staff hierarchy, commerce, politics, and overall culture of the institution. What comes up is a consistent critique on the "living museum", a place that despite its efforts at egalitarianism still resonates a hegemonic narrative of nationhood. The research is thorough and clearly packaged within each chapter according to interviews, personal narrative, statistics and background fieldwork that each adds to the validity of the authors' critique. Handler and Gable question motives and meanings by looking under and through the corporate lines and patriotic agenda to give their readers a great deal to think about regarding our nations' cultural landmarks.
This week I've been spending time in Wilmington, North Carolina and the surrounding area visiting family and enjoying the old Confederacy in all its splendor. It has been interesting reading The New History in an Old Museum while occupying the role of the "Yankee tourist" and taking in the surroundings with a duel lens. In every shop, traces of Confederate pride stand out as print on a bikini or decorating a restaurant bathroom. What was once (and still is to many people) a symbol of overt racism and oppression has seemingly translated to contemporary patriotism. Is that possible? Handler and Gable indicate that it might be considering the way places as historically resonant as Colonial Williamsburg still manage to reaffirm a past we should not be proud of. The problems remain attached to viewpoint, access and affiliation such that many Southerners look at these symbols of atrocity and see markers of pride in a surviving identity. Others might look at rows upon rows of Confederate flag tourist paraphernalia and be disgusted and hurt by the "un-Americanness" of the display. Are the people who buy such items guilty of racism or are they naïve tourists who wish to capture the feel of "good old Dixie"? There are few people who do not know the meaning of a Confederate flag; however, by attaching modern patriotism to the old symbol it takes on a new meaning that allows its representation to morph to the level of tourist kitsch. The problem is that such a symbol can never be free of its original meaning; as in the swastika, historical atrocity embeds itself into a visual signifier forever.
What do we really want to see about our past? That question is important because it is directly connected to how we view the present and our place in that transfer from one era to another. Colonial Williamsburg tries to meld history into the present by representing the oppressed alongside the oppressors so that visitors might experience the not-so-pretty side of such a beautiful historical landmark. The operation; however, remains a corporate machine that must be fueled by the drive to increase capital and thereby maintain its status. My issue with the text is that, like much post-structural theory, it problematizes but fails to suggest answers as to how "historical truth" might be effectively engaged without being a consumerist nightmare. Like the confederate flag being a questionable tourist commodity of Southern identity turned into patriotism, Colonial Williamsburg is a site of historical commodification but to many tourists is still an accurate display American nationhood. Every nation has its historical demons because there has always been oppression of one race in return for the success of another. Can I blame the Southerners for their confederate flag memorabilia because I think it represents ignorance and hatred or must I acknowledge their right to feel attached to a symbol that expresses their (not everyone's) national pride? On the same note, is Colonial Williamsburg to be condemned for its "corporate sensibility and pedagogic principle" because it manufactures supposedly hegemonic cultural beliefs? I don't feel like I am in the position to judge one way or the other because the tourist lens has the unique ability to change any and all perspectives.
Posted by Dori Lubliner at 07:57 PM | Comments (0)
March 11, 2007
Nothing to See Here
Just came across this blog, Nothing to See Here, which I thought might be of interest to the class -- focused on attractions with a dearth of 'markers,' here is how the site describes itself:
"Nothing To See Here is a collaborative guide to some of the world's lesser-signposted places to go - attractions that may not be all that attractive; coastal towns they forgot to close down; high streets that haven't been homogenised; oddities and one-offs. The sort of places that are overlooked by guide books and given the bodyswerve by the tourist board. Places that still have a certain charm, a bit of je-ne-sais-quoi about them. They're a little bit special. No Been There, Done That, Bought The T-Shirt kind of places here. They won't cost much (if anything) to get in and you'll come away feeling a little bit richer. Plus there's plenty of peace to enjoy them."
Posted by James Ball at 05:32 PM | Comments (0)
March 06, 2007
An Interesting Book and/or an Alternative Museum
Hey, guys
I find this book on-line. And some of you might be interested in an alternative museum studies.
Check it outhttp://www.amazon.com/My-Cocaine-Museum-Michael-Taussig/dp/0226790096/ref=sr_1_4/002-6756577-6200022?ie=UTF8&s=books&qid=1173163031&sr=1-4
Posted by Ching-Yao Luo at 01:44 AM | Comments (0)
March 05, 2007
Whose time is it anyway?
Many of the themes from this weeks reading were reminiscent of a course I took last semester, "Time and Temporality," taught by Kay Turner. The distinction between culture and heritage implies specific cultural relationships to time and temporality.
Heritage: "1: property that descends to an heir 2 a: something transmitted by or acquired from a predecessor : legacy, inheritance b: tradition 3: something possessed as a result of one's natural situation or birth : birthright " ( Merriam-Webster )
'Heritage' seams to indicate the objective existence of something before, and hence outside of an individual. While 'culture' tends to be defined as something existing in tangent with the individual,
Culture: "1: cultivation, tillage 2: the act of developing the intellectual and moral faculties especially by education 3: expert care and training " ( Merriam-Webster)
Heritage describes the taking on of an identity and culture indicates the perpetuation of the identity. By these definitions, heritage and culture exists as two sides of the same coin, revolving around each other to form a whole.
The UNESCO definition of "intangible cultural heritage" significantly complicates Merriam-Webster's definition in a number of ways.


"intangible cultural heritage" means the practices, representations, expressions, knowledge, skills – as well as the instruments, objects, artifacts and cultural spaces associated therewith– that communities, groups and, in some cases, individuals recognize as part of their cultural heritage. This intangible cultural heritage, transmitted from generation to generation, is constantly recreated by communities and groups in response to their environment, their interaction with nature and their history, and provides them with a sense of identity and continuity, thus promoting respect for cultural diversity and human creativity." ( Text of the Convention for the Safeguarding of Intangible Cultural Heritage)


First extraneous reference is the inclusion of "…instruments, objects, artifacts and cultural …". Objects and spaces can be preserved in an archival museum, such as the museum of natural history, as objet d'arte. But what makes them 'intangible' is their performative function. The second notable complication is the performer's interaction with a culture's environment and history. This is a strange moment. It correlates 'culture,' the moment of an individual's performance, with 'heritage,' the performance's place in a specified historical continuum. From this definition, it seams that 'intangible cultural heritage' is simultaneously temporally specific and trans-historical.

Reflecting on the language used by organizations in developing legislation to 'preserve' intangible cultural heritage, it is significant to note the large influence of Western philosophy. The language of UNESCO, the WIPO, and the Smithsonian Institute is largely influenced by a utopian potentiality of history, founded in Western Enlightenment philosophy, and striving for universal human rights. These organizations rely heavily on legal language in order to imagine and enforce 'universal human rights.' Legal parameters necessarily mediate time and space, rendering it not necessarily compatible with the cultures it is trying to protect. Liner time is essential both to legality and to the achieve. But what is so intriguing, and complicated about intangible cultural heritage, is that by its repetitive nature, it reflects cyclical time. "The repertoire is about embodied knowledge and the social relations for its creation, enactment, readmission, and reproduction." (BKG 17)

The location of intangible cultural heritage in time becomes a central problem in the Feld question of "Rorogwela." The performance of a song is intangible by its repetitive nature; its 'authentic' expression is in its repetition. Feld observed the cultural transformation of a culturally specific form, when taken out of its repetitive temporality, and frozen in a technological form, "Not only does customary technology make all musical worlds actually or potentially transportable and hearable in all other, but this transportability is something fewer and fewer people take in any way to be remarkable." (Feld 145) The digital technology disembodies the song. The song is no longer repeated through re-embodiment, but is frozen in a specific temporal moment. The moment the song is isolated from the performer, it is isolated in time, allocating it directly into an archive. "From the initial standpoint of the sampler, Afunakwa is not a person but a sound; from the subsequent standpoint of the arranger that sound is a melody and not a distinct performance. (Feld 165) The distinctness of the performance is intrinsic to cyclical time, while a sound belonging to an archive, is based in liner time.

In conclusion I am led to wonder, does the 'West' have 'time anxiety'? It seams as though we are perpetually trying to get back to the past, to understand it better in the hopes of somehow better understanding ourselves. This yearning seams to be reflective in our pristine archiving of our own history, as well as the 'returning to the primitive' mentality which post-colonialism is still striving to overcome. In the way only sarcasm can, "The Onion" best articulates America's crisis with time. Have we indeed succumbed to "…the mid-80's deregulations of retro under the Reagan Administration …leaving us to face the threat of retro-ironic appreciation being applied to present or even future events"? Maybe America is just catching up with cultures that have always simultaneously perpetuated and embodied their history, present and future through performance.
Posted by Tara Good at 08:51 PM | Comments (0)
If you smell something- say something
This site has is relevant to discussions from a couple of weeks ago. It is an interactive map of NYC that allows you to tag encountered smells on the subway!
http://gawker.com/maps/smell/
Posted by Claire Duplantier at 05:28 PM | Comments (0)
misc. info from jamie
Hello everyone! Here are links to the things I mentioned in class today-- (looks like my links aren't working so I'm republishing with the links typed out -- or if someone could send me the formula I'll fix them--- thought i had it figured out)
The Klezmer band "Isle of Klezbos" is wonderful. They also have a more formal band called "metropolitan klezmer". There's a show on April 17th (maybe we can get a group together!)
www.metropolitanklezmer.com
Also, the film "Songcatcher" (starring Janet McTeer) tells the story of collecting "plain song"in Appalachia--

Songcatcher
http://imdb.com/title/tt0210299/
Finally, I think a field trip is in order this summer to the Smithsonian Folklife Festival!
check it out:
Smithsonian Folklife Festival 2007
www.folklife.si.edu/index.html
Posted by Jamie Reynolds at 02:32 PM | Comments (0)
Balg Eun Song's response
Everything surrounding us has perhaps generated not only self-sufficiently by our own culture but intermixed by different cultures. Culture is ephemeral and variable, not immutable. Nothing is truly indigenous in this world. Then what are we trying to protect and preserve? What we are preserving is maybe a culture of a certain moment throughout all the history. It is also a very small portion of the whole culture. Perhaps we are preserving our heritage for another marking of history.
However, I still believe the movements to preserve heritage is important. This era of globalization is a special era of cultural unification. Globalization unifies the culture with great speed without invasion. We could so easily neglect our heritage for economic reasons with no guilty conscience. The world is threatened by loosing the origin of where we belong to. Those cultural past does not stay in the past only but evolves into our future. There is going to be a gap between each era. In this era, world especially needs organizations for security systems that could preserve their heritage. The problem here is how we preserve heritage, who is going to select, and who is going to judge the morality in different culture. For example, UNESCO is distinguishing intangible heritage tangibly. Perhaps it is a paradox from the beginning. It might bring up prejudice for certain cultures. However, I think these are the trial and error for every organization. We cannot just deny the system because of the error but try to fix it in a better way.

Posted by Balg Eun Song at 08:46 AM | Comments (0)
Reconceiving Archives and Performance – Intangible Heritage
I apologize for posting this is so terribly late! I was a bit overwhelmed with the richness of the readings for this week and their relevance to my own work. I've finally been able to sort through my notes and come up with a semi-coherent[ish] response:
A concept I found most fascinating in this week's readings was BKG's problematizing of "the archive" – in relation to the heritage industry, as well as the museological processes that have come to define and frame [tourist] presentations of culture/heritage and experiences of other places. This notion of a recorded heritage versus an embodied heritage – and the conflation of the two that happens in "intangible heritage safeguarding" and "TCEs/EoF protection" – presents an ambiguous and complex predicament.

In referencing Diana Taylor's "The Archive and the Repertoire", BKG, in "World Heritage and Cultural Economics," notes that intangible heritage is "inextricably linked to persons" (19) and thus, it is difficult (and destructive) to relegate it to the archive. This is complicated by the common metaphor of non-Western elders being "living archives" or "living libraries". BKG finds this opposition clearly stated on UNESCO's Intangible Heritage opening page: "Africa loses a library when an old man dies." Without having read Taylor's entire book, I am wondering if these two categories are actually much more intertwined when considering the realm of intangible heritage. I believe the passage and production of the intangible repertoire is an alternative archiving practice, and that notions of "archive" ought to be more dynamic than traditionally thought. Heritage is a modern living pastness, although manipulated and re[-]presented. What does this do to the community's memory of their own histories?

Relating the readings to my project, I was wondering: Is Hatian Voudou dance/drumming presented in a US class/performance context representative of intangible heritage? While reading BKG's discussion descent and consent, I kept thinking of dissent. Voudou as a religion in Haiti is not at all valued as a national trait – in fact, most Haitians will sincerely claim they are Catholic, but still practice certain Voudou ceremonial rites – but when Haitian musicians and dancers come here to make a living from these cultural knowledges (cultural economics?), it seems to become categorized as emblematic of Haitian heritage. (As well as African and African Diasporic heritage.) Voudou's history, as being developed by African slaves as a counterpart to Catholic religious decrees in the New World, is a history of dissent. How is this conceived of within the heritage rubric (both at home and abroad)?
BKG's statement that "Tourism can be taken as a barometer, and it operates as an instrument, of local and national self-understanding" (Destination Museum, 141) parallels the way Haitian dance is formulated in my own project. The chapter then goes on to point to "several notions of culture: culture as lived practice, culture as heritage, and the culture industry" (144) and raises several questions that I was wondering as well: "How does a way of life become 'heritage'? How does heritage become an industry? And what happens to the life world in the process?"
What most interests me are the specific essentialized/condensed notions of "culture", "heritage" and "history" that are touted as national signifiers for tourist consumers (both from within that nation and from without) as well as the presentation/production of these essentialized notions as so closely linked with concepts of modernity. Related to the questions above, I ask: Where do these notions originate? By what process are they incorporated into tourist productions? What stereotypes, tropes, official dialogues are promoted/contained within these essentializations? How much relies on local ideas? How much national? How much foreign/"global" culture? And whose self-understanding is this? What is the process by which a community's practices (which may no longer be applicable to the contemporary structure of that community) are taken out of context and restructured as exhibitions, living dioramas, performances, "heritage" festivals? BKG's study of the protection of "intangible heritage" illuminates the ways in which the processes of valorization and valuation constitute new relationships. I hope to be able to explore these dynamic forces and changing expressions in my own work. I also plan on checking out Peggy Phelan's "The Ontology of Performance" and the reactions to her ideas about the act of performance being the impetus for disappearing something, as this debate seems to relate to my project.
Another issue is the dualism raised by BKG's writings as well as Steven Feld's essay on World Music. This is, on the part of the producer, the simultaneous framing and detaching of heritage/cultural traditions, and on the part of the produced, the self-conscious presentation and manipulation of these practices. In "World Heritage and Cultural Economics," the tensions between the rhetoric of world heritage discourse and the realities of world heritage producers are categorized throughout the essay as having a paradoxical and asymmetrical relationship: diversity and life-worlds are subsumed by the rubric of humanity and the metacultural construction of heritage. In "Destination Museum" we see this in the museumized tourist production: "There is a reciprocity, a recursiveness, between the exhibition of the world and the world as exhibition of itself" (144). And regarding world music, Feld files these contradictions under "anxiety" and "celebration". In Feld's work, the last section in which he references Michael Taussig's work I thought made an excellent connection to the other readings:
"In Mimesis and Alterity, Michael Taussig writes: "Once the mimetic has sprung into being, a terrifically ambiguous power is established; there is born the power to represent the world, yet that same power is a power to falsify, mask and pose. The two powers are inseparable" (1993, 42-43). Here those two inseparable powers are productive of the anxiety and celebration that links aura to authenticity, creativity to caricature, difference to dominance." (Feld 165)
The mimetic is an intriguing concept to employ when analyzing tourist productions and representations of heritage. However, I wonder if it is too cynical an approach. I have not read Taussig's work, and I suppose by framing "mimesis" in compliment to "alterity" there is a "power", as he states, to represent one's practice, but it seems as though representation is different than actually doing something embedded within one's culture. Is this a correct assessment? Is there such a possibility? Feld notes that mimesis allows for creativity but it also opens up space for caricature. How does this relate to "the archive'? I see this contrast of creativity and caricature in my dance classes, and am wary to just place things into this dichotomy without pushing anything further. Is there a way to go beyond the dualisms? The promises and pitfalls are plenty, but I find these expanded notions of archive and repertoire – the performativity of "heritage" – as expanding terrain for my research.
Posted by Dasha Chapman at 01:33 AM | Comments (0)
Sound Walk Queen´s
Sound walk
Queen Elizabeth Park
Vancouver
Sound walk
Queen´s Park
Vancouver
For this assignment I decided to explore the experience being in a movie and be part of the acts. I chose a sound walk that was recorded far from New York City in Vancouver. If you give me some time (or lines) I could state my ideas of experiencing Vancouver in Astoria and Manhattan. Last year, I spend most of my time in museum and galleries in Europe. London, Berlin, and Brussels were sites of these experiences. The various ways a spectator interacts with tourist attractions such as museums where part of my daily activities. The Sistine chapel experience reminded me to a flea market in Mexico City even though seeing it was breathtaking the circumstances where not far from "Tepito" in Mexico. In the museums I experienced different ways of interaction with the exhibitions because one of my interest as an artist is to understand the ways objects and performances engages with the audience/spectactors searching for different ways of interaction and collaboration that creates an experience.
One way of experiencing a museums was by preparing the information of the artist and exhibition by myself and previous to my visit. Another way was going through all written information that the gallery/museum had produce for an exhibition. Third way was using the audio guide in my mother tongue: Spanish. This described just a 40% of an exhibition. Fourth form was using the audio guide in English that interacted with every piece in the showroom. This overwhelmed me with information complicating my experience going through all the room, and alienated me from the people that accompanied me.
Any sound information received in that experiences surrounded me and kept my attention creating an invisible sphere around me. Sometimes, I tried to move through the masses of people trying to see as much as I could, while in other occasions I kept the distance. I experience a performatic tourism were people got involved in movements that I interpreted as a choreography of bodies moving in space and time organized by tourist or museums guides.
During last class we discussed how sound walks are a kind of movie in which you become part of because you are able to interact with the characters, and settings guides by the sound walk. My previous experiences in museums gave me the inspiration to follow Jim Ball´s experience of using a sound walk in a different place. I selected a sound walk of Queen Elizabeth Park in Vancouver where the main interest was to record the environmental sounds in this natural and open place. The walk or settings that I chose was my daily walk/train from my house in Astoria Queens to NYU, a 45 minutes movement experience with repeating four times the sound walk.
The sound walk was recorded by a local person that was interested in recording the parks´ sounds in a day when families gathered to spend time in this space. You may listen to voices that were asking the reasons of the project, and questioning the person recording what did she intended with this recording. I found this fascinating because it was an intervention in a quotidian activity of her town. This project did not included an exhausting descriptions of the place, but it kept the sound waves of simple experience of walking in the park feeling surrounded by people, and nature.
In contrast my walk/movement was an extreme contrast as I usually take the N train from 30th Avenue in Astoria to 8th Street in Manhattan. I walk four blocks to the train crossing constructions, and stopping at the "Tastee Corner", the local Deli. During this morning, the deli hosted a reunion of elder Greek men of the street. I continue my walk to the train and waited for minutes. As the train approximated to the station the sounds of the park in Canada contradict my experience creating an alternative sound environment that transform my experience.
The objects and bodies that were interacting acquire a quality of movement manipulated by the sounds that evoke tranquility. A couple that were fighting during part of the ride was transform into a dance were to persons flirt with each other in a very active way. They discussed over and over repeating movements that corresponded to some sound of the environment of the park. The sound was set by I had the opportunity to chose what were the settings that belong to this film. It became a visual stimulation to my creative process as I rehearse my main interest with audience, taking choices in a performance. The collaboration in this exercise was a key to develop a more interest result. Dean MacCannell will question in if what I am interpreting is connected to staging authenticity, but what happens when nothing is staged on purpose. The stage happens as a repercussion of the sound influences my perception.
"We both travel to forget and to remember where we stad. Our experiences shape what we find." Lucy Lippard in her book On the Beaten Track expresses how the tourist experience is influenced by our relation to the tourist object or experience being unable to separate the experience from what we decide to observe. In every moment we are constantly selecting what information will come often to our minds. Sometime we cannot control the information that our body absorb, but this influences us to select certain sensorial information. This is how my assignment was of interest to the decission based experience in a sound walk. In tourism it is important to take decisions that will influence the experience that is why I was interested in Jim Ball´s experience, but I wanted to take it a step further to movement and dance in a sound walk. How can you create a sound walk of a performance, dance, choreography, or acts. This experience represent for the me a reevaluation of movement and interaction with the audience in performances helping me consider aspects that until now I had ignore. How tourism´s engaging methods and techniques may contribute to the efficiency of a performance?
Posted by Nohemi at 01:22 AM | Comments (0)
March 04, 2007
Beatrice- World Heritage
Throughout our class we have often talked about tourism as performance: a production that imagines a performer (the performer of "authenticity," of culture, of heritage or tradition), and an audience (the outsider, the one seeking the "authentic" experience, both McCannell's 'modern man' and Bruner's self reflective, post-modern tourist.) In this week's readings I was particularly fascinated by the notion brought up in Prof. BKG's article of a "heritage of humanity." Here, an idealized "humanity" becomes the universal audience of heritage productions, and "safeguarding, whatever its local effects, ultimately protects the rights of humanity to world heritage."
Like Prof. BKG points out, this approach presumes "open access" to all, in a political move that appeals to "peace and prosperity" in the world (UNESCO), and yet pays attention to the rights and privileges of a limited few. By highlighting the importance of audience access to world heritage, UNESCO follows a marketplace model, in which the consumer's imagined rights and needs are given precedence over those of the producer. Here I highlight the word "imagined," as UNESCO's model works on assumptions that are by no means inherent to how world heritage should be dealt with, but rather creates a complex argument using concepts such as "peace and prosperity" to naturalize actions that, in fact, are quite violent towards those who are not given a central position in the model (i.e. the performers, creators, educators of particular traditions and folkloric expression.
Furthermore, an approach in which "humanity" is considered "other" in relationship to the producers and creators of traditions, in fact creates a stronger division between audience and performer, between consumers and producers of "world heritage." UNESCO makes primitive and exotic the traditions it is "safeguarding," the attitude of safeguarding itself becoming a patronizing gesture towards those who cannot safeguard themselves. In this lens, it is interesting to look more closely at examples such as Nôgaku Theatre in Japan, which is already supported by the state. What is the political intention behind UNESCO's decision to include the theater in its "list"? What does this inclusion tell us about the assumptions behind their list criteria? What are the power dynamics involved in where money is allocated in this project?
I am also interested in those traditions that are not recognized by UNESCO. UNESCO's list gives us a chance to look at the more tangible aspects of their choice process, yet I wonder about the process of elimination through which other world heritage did not quite make it. What were the assumptions in the conversations had during this choice process? It seems that in these failed world heritages (itself a paradoxical concept in my mind) we could get an even clearer perspective on UNESCO assumptions behind the process of selecting, labeling and giving value to heritage.
In relationship to my own project, it was interesting to see how (in our readings for this week) heritage bearers themselves were not given much recognition in terms of their active relationship to constructing themselves as heritage. From a first encounter with Mr. Lou Di Palo, one of the three siblings owning Di Palo's cheese shop, it was apparent to me how the sibling's own marketing ability is central to maintaining the tradition around their shop. Of course, quality plays a big role: Di Palo's offers great Italian products and has a clientele that dates back three generations. Yet in its tradition, the shop itself is very alive and up to date. Mr. Di Palo travels back to Italy often and seems to have re-invented a place for himself in the economy of food (for example, in his relationship to the Slowfood movement.) After this week's readings, I would like to look more closely at how traditions bearers themselves understand their position within world heritage and are more or less successful in exploiting this category in order to meet their own interests.
Yo Yo Ma is a great example of a musician trained in Western tradition who was able to use his fame in the Western market in order to introduce a project based on collaboration and education such as the Silk Road Project. Yo Yo Ma himself admits to the increased possibilities available to him once he became a respected musician in Western audiences: once he was on the spotlight, he was able to introduce a project that is dedicated to an aspect of world heritage. In Ma's work I see an astute understanding of the system behind which organizations such as UNESCO work. So much of what is or is not considered heritage today is based on the assumptions of the receivers: of the audience, and not the performer. Yet, once the performer enters a privileged conversation with the audience, they can contribute to identifying and valorizing heritage that might have not been acknowledged otherwise.

Posted by Beatrice Barbareschi at 04:38 PM | Comments (0)
Response- Nohemi

This week´s reading were of a great varieties and approaches to concepts of "heritage". So far, I agree with the quotation marks that BKG set to frame this word in the reading guidelines. What it is "heritage"?

This week´s reading were of a great varieties and approaches to concepts of "heritage". So far, I agree with the quotation marks that BKG set to frame this word in the reading guidelines. What it is "heritage"? And can it be frame with words? My doubts about what frames "heritage" were amplified while all the information the articles develop were or way in which you can name or classify "Heritage". UNESCO describes heritage in different way grouping into tangible and intangible, meanwhile WIPO makes an specific list of actions, and activities that are consider as ephemeral heritage. These two perspectives are interesting as they provoke great controversy, as BKG delineates in her article, in the way they group culture into world culture. This actions and decision encourage an international understanding but through this minimizes the space and the differences between cultures and countries that present it different and value to each other.
"Heritage" as a concept that allows and restricts the life of tradition and culture presents a constant contradiction giving space to this ambiguity to transform the limits of heritage and what constitutes it.
One of the example that is of interest is the way UNESCO as a way to support the development of a living act or performance through the transmission of embodied memory. In this program the aim is to support the main artist as a way to support the continuation and specialization of this tradition that are transform and consider as a culture. If we think in the concepts above mention their relation to this program will be connected to the support directed to the expert of this practice. This actions taken in its name it is of great interest for me and for my project in so far in connect a way of survival of culture and a tradition, but how will this continue at the end of the life of this expert. I understand the great effort that has taken place, but thinking not just in the present but in the future of this support is extremely important. It is important to underline that the way to reach to this support is through classification that is based in a certain degree of exclusion.
Posted by Nohemi at 12:20 AM | Comments (0)
March 03, 2007
from the south
Greetings from Savannah! I am currently visiting my mom in Savannah, which has provided an interesting backdrop for the readings this week, as I have been considering "heritage" and "globalization" in the context of this town. A mix of predominantly Irish (Catholic), African American, and Greek, this southern town offers an extensive variety of tours at any hour of the day. It is quite a production.
Proclaimed as "America's most hunted city", Savannah offers over a dozen different ghost tours, my favorite being the hearse ghost tours where you see the city's haunts in a modified convertible hearse (http://www.hearseghosttours.com/), which, by the way, costs nearly $50 dollars! There are also nearly a dozen trolley tours through the town's famous squares where you explore the architecture of this famous Revolutionary and Civil War town. There is also the notorious "Book Tour" which traces the journey and sites of the book "Midnight in the Garden of Good and Evil", written by John Barendt. (My mom has done this tour and highly recommends it for fans of the book. warning: she's a writer).
As an Irish American I am enamored by the 'heritage' this town preserves/preports-- Irish music, Irish restaurants, Irish pubs and markets. However, I am struck by the inauthenticity of these spaces. It comes down to the marketability of the culture of a nation, which speaks to Feld's comments on the marketable measure of "indigeneity". Even during the time I spent time in Ireland, I was amazed by the pandering to tourists, but enamored at the times when I felt like stumbled on the unplanned. For example, while in Dublin, my mom and I wandered into a pub called "O'Donaghues", where there was a five-piece Irish band jamming. It was packed to the gills and we knew we'd stumbled onto something fantastic… characteristic of 'the adventure' and not of the 'tourist production' we were on. Little did we know, this spot was world renowned and popular among the locals and the 'toursits'. It didn't matter. There was magic in the room—a communal energy of instruments, ale, musicians and audience—a non-recorded aural/oral experience = "intangible heritage".
This memeory was conjured by BKG's citing of Craig Calhoun and the "solidarities based on a sense of belonging that is rooted in as sense of shared culture, history, and destiny" (21). That is precisely how I felt, as if this was my history, and in a weird sense it was like I had a particular 'access' to it because I am of Irish descent. Is this wrong? Am I practicing what BKG problematizes as "the presumption of open access" when culture becomes the heritage of humanity, even if I find it as 'personal/individual heritage'? (I am still working through the varied definitions of 'heritiage', so I use this term as such).
On another note, I am compelled/ troubled by the idea of history (The Onion) and music (Feld) folding in on itself so that it is no longer recognizable. Will we run out of our own history? Have we run out of originality to the point that we will catch up with ourselves and be stuck in a muted status quo of existence? Has the marketablity of "world music" taken away the individuality of human voices?
Utilizing the term "difference makes no difference", I am wondering if it should. Are we capable of blurring the boundaries to a point that it's detrimental, where everyone thinks that they have access to everyone else's culture/ traditions/ heritage? If individualty is adopted, adapted, codified, modified, marketed and sold, how will we identify each other/ ourselves? Should 'difference' matter?
( I realize I am posing many questions here, but there are so many to be raised regarding this week's readings. My TA this summer had enormous issues regarding the term "heritage", and at that point I could not begin to understand what she meant. Now I am meeting the questions/ issues she was wresting with, although from a different perspective; and I am meeting them in a town where the confederate flag is still flown... I don't know what to make of it, but it's worth a note.)

Posted by Jamie Reynolds at 11:43 PM | Comments (0)
On Heritage
According to the Merriam-Webster online, the term "heritage" came to existence around the 13th century, coming from heriter to inherit (Anglo-French), from hereditare (Late Latin), from hered-, heres heir (Latin). By definition, "heritage" means 1) property that descends to an heir; or 2) something transmitted by or acquired from a predecessor. Though applying a notion of the past, the heritage does not belong to the past; contrarily, it belongs to the contemporary, which is "a mode of cultural production that gives the endangered or outmoded a second life as an exhibition itself." (Kirshenblatt-Gimblett 1998) However, to preserve the heritage or to protect the TCEs/EoF seems an effort to turn the heritage into a dead specimen, fixing it in a specific space and time frame. Even so, nothing material is eternal; it would still be gone someday.
Many important cultural relics were/are in danger in China because of the construction of the Three Gorges Dam (See Wikipedia "Three Gorges Dam" 2.3 Local Culture and Aesthetic Values: http://en.wikipedia.org/wiki/Three_Gorges_Dam#Local_culture_and_aesthetic_values). Not only 1.2 million people will be relocated, but also 1300 archaeological sites inundated. I've never been there, but I knew it for long in traditional Chinese literature – many important poets and writers wrote in their travel the beauty of the three gorges. For many local tourists, the literary texts and the sites became interpretations of each other and of time. Because of these mutual interpretations, the heritage was vitally alive. Now the sites are gone, and the relics are dead, though China claimed that they would try their best to preserve them.
UNESCO and WIPO's efforts in preserving the human beings' past are admirable –if we were able to preserve everything, our children and children's children wouln't have to worry where they are from. But the premise of both institutions is somehow paradoxical in nature and their methodology problematic. Preserving the heritage sometimes contradicts the need of economic progress as in the case of the Three Gorges Dam. Putting the relics in a museum or building an archive does not seem enough or efficient. It is always about value judgment and choice. The hermeneutics cannot cover the whole phase of a specific heritage, and here comes the politics. Hence peserving the heritage becomes a thankless task. But it still worth a try for the local people to reexamine their own heritage and their own past, like the Taiwanese U Theatre who undertook the "Plan of Tracing Back," using their bodies to learn and experience the traditional Taiwanese ritualistic performances, in which they wish to find the root of their culture and body.

Posted by Chia-fen Chang at 11:27 PM | Comments (0)
Euphemisms

Although the intention is probably honorable, it was interesting to
read about the contradictions and problems embedded in the approach to
preservation through heritage classification. There were several
moments in both the WIPO text and UNESCO's 'Conventions for
Safeguarding' that I want to focus on in this response.
UNESCO's article 14 is about education and awareness-raising. This is
one of the many things within these readings that seem strange and
dangerous. In the way that it is described, education programs seem to
be based in an arrogant position of entering with authority and of not
allowing participants to reproduce their own wisdom of the practice or
knowledge of the site. While on the one hand I admire the impulse to
protect what is deemed valuable, the ajenda of "ensur[ing] recognition
of, respect for, and enhancement of the intangible cultural heritage
in society" could be entirely disruptive to other subtle and important
methods of cultural transmission.
In the WIPO policies I was amazed at the potential problems I
envisioned. The reference to 'protection' seems to be a euphemism
for methods of stagnation and death of cultural practices. In
the "protection" there is also a quality of property- as it is moved
from daily practice to something out of the hands of the community as
it is performed as heritage. There is a contradiction in the language
of WIPO. They want to "encourage, reward and protect authentic
tradition-based creativity and innovation" (annex II, pg 2) but in
order for the creativity "to be protectable, TCE subject matter should
be 'characteristic' of a distinct traditional heritage of a particular
community" (annex II, pg17). With the threat of a practice to not be
protected, perameters are created in how the practice can shift.
These methods do not take into account the necessity for practices to
shift and adapt to maintain viability and relevance in the lives of
the people who had 'possession' of the practice before it
was 'heritage.' This seems like a tricky project without an easy
solution.
I thought it was a profound critique in 'World Heritage and Cultural
Economics' to suggest that UNESCO's efforts to name and protect
intangable heritage "produces something new, which though it has the
recourse in the past, is fundamentally different from it." (BKG p.32)
For BKG: I feel like your writing has the potential to stir things up
over there in the UNESCO policy offices. Have you seen any shifts in
their language or approach since you published?
These readings reminded me of a documentary made in the 70's about
traditional Louisiana food and music. Part of the film featured my
grandfather Belizaire speaking French and cooking gumbo. It is so
funny to watch because I can tell he is performing his Cajun-ness.
The framing of the film as recording the "authentic" practices was
enough for my grandfather to perform in an exaggerated way that
was "typically" Cajun. Although in daily life he did speak French and cook
delicious food, the documentary which at a certain level aimed to record
Cajun "heritage", functioned as reinforcement and reproduction of
practices that are "characteristic" of Louisiana. What I recognized
was something that was removed from the daily way of performing to
something more in line with a "demonstration." This relates to the
reading in the way that people shift their relationship to their own
practices when they are externally valorized.
Posted by Claire Duplantier at 11:14 PM | Comments (0)
Culture and Heritage
As I tried to do a simple "culture" lesson to first graders last semester, I had a hard time finding the worlds to use. The word "culture" has little meaning to 6 and 7 year olds, and knowing this I had searched to find a way I could relate it to these young people. Words like "heritage" seemed a bit more accessible, but when I asked their parents to have their children bring in a cultural or heritage object, they brought things like a touristy bag from Granada and a Honduran flag— items that had little or no relevance to their everyday lives. I'm still trying to find a vocabulary to use in order to talk with kids about a heritage that is real and present for them. I found that showing pictures of holidays wasn't quite appropriate, neither was sharing a narrative about my own experience. I'm also wondering how the Jewish Children's Museum makes culture "real" for youth. Or perhaps how it mythologizes it?
However, I think culture is a difficult thing to define even for young adults. At a training I participated in a year ago in France with people from all over Europe, we got into a heated debate about how to define the word, and to think now that tourism didn't even enter into our conversation. We didn't make the distinction between tangible and intangible, though the fact that culture is constantly evolving was an aspect that many considered essential to the definition. The limited English skills of the various participants further complicated the discussion. What I took from the 10 day training/exchange (among many other things), was a feeling that as an American, I was completely lacking in culture, though I might have heritage to draw from. I'm still trying to figure out where American culture fits into the discussions by UNESCO and WIPO, and how we and the rest of the world define our folklore and intangible heritage.
Posted by Rebekah Steinfeld at 10:07 PM | Comments (0)
Eric's response
After reading this week's readings, I am thinking about the relationship about the heritage and the era of globalization. For me, on the one hand, I admire that UNESCO's efforts to protect the heritages from damage and extinction and conserve the completeness of heritages. However, on the other hand, I am worried about the homogeneity of regarding the heritage as a unity in the era of globalization.
In terms of cultural policy, the UNESCO's policy of conserving heritage is a typical top-down one. The policy seems to conserve the heritages and their cultural uniqueness simultaneously. But, the main theme behind the policy is to regard those particular cultural heritages as whole human beings' properties. It remind me that the discussion of culture awareness and culture homogeneity in the process of globalization. Some cultural workers, activists and scholars resist those sameness of regarding their specific culture as a unity as others. As BKG writes, "Cultural diversity and world heritages, cornerstones for the culture of peace envisioned by UNESCO, require more than mutual respect" (25). Thus, the UNESCO's policy of conserving heritages is no doubt a great example of how to conserving heritages and respect their different cultural uniqueness.
Posted by Ching-Yao Luo at 08:52 PM | Comments (0)
Limitations on heritage rights and policies
In reviewing the texts for this week, I find myself thinking about the limitations of drafting protective cultural policies and question the possibility of their full exercise and enforcement.
As with many legally binding texts, I wonder about the current level of access to and enforcement of such conventions-such as the WIPO and UNESCO Convention for the Safeguarding of Intangible Cultural Heritage- laws, agreements, or treaties on behalf of local, grassroots and community organizations. Ratification at the national level by each country is a step that follows the signing of such drafts, even if they are approved by international councils. Recognition of indigenous peoples or communities by each country and state will determine the ability of these communities to exercise these rights. If the communities aren't acknowledged by the nation-state, they can't claim cultural property.
Also, there may be different levels of interpretations of these texts; " there may be different conceptions of art and law in terms of indigenous and non-indigenous systems" (Shand, p. 82). In discussing protocols for shooting film or video in Native communites, for example, I've often brought up the dream project of drafting a list of grievances by community, so that any filmmaker could refer to a given location or community and see what researchers, documentarians, missionaries, etc., have visited before and what their impact has been, from the community's point of view.
The bright side: UNESCO does fund preservation initiatives, gives awards and recognition to undervalued persons and/or practices, and spreads awareness about the value of "heritage" in its most varied forms.
Posted by Amalia Cordova at 08:51 PM | Comments (0)
Culturally biased
A couple weeks ago, an NYU undergrad emailed me and several others saying she was writing an article about babysitting, her editor had found our names on facebook , and she wanted to interview us, or if possible, come to the homes we worked in to observe us. I was furious. The fact that I was stalked down on the internet through a site meant to keep in touch with old friends felt intrusive enough, but that a student would think it would be appropriate to ask to come to observe children in their homes astonished me. It seems people forget that people aren't "subjects" but are human beings, with lives...
This moment came to mind while reading the legal jarring-ness of the WIPO document. It was striking to read such language applied to culture in general, but even more so when I imagined the human beings behind the language. I could not help but wonder what people would say to the use of this particular language surrounding events or moments that surround their daily lives—a legally mandated/binding cookie baking day, anyone?
I also think it is interesting how Western-based ideology surrounds the choices of what is protected as heritage—the bullet-point that mandates that nothing be against human rights is particularly interesting. While I am not about to promote female circumcision, being a feminist, I was shocked as to how much my views of this practice changed when I spoke to Africans. While I still do not support the practice, I came to view western views from a whole different vantage point. While some aspects of culture are being preserved, others are described as morally reprehensible and attempts are made to rid the globe of them. I am thinking in particular of male circumcision rites (to me, still kind of bizarre that cutting a piece of flesh from one person's body is culturally acceptable, but not from another's). I am aware that there are definitely different consequences in the two procedures, but I wonder if male circumcision wasn't so prevalent in Western society if it would also not be obliterated from non-Western societies.
I have trouble taking up too much issue with UNESCO, because I did see incredible projects that they were helping to fund that otherwise would have been non-existent in Ouagadougou (such as a cultural radio broadcasting in at least 10 languages), but some of these projects seem almost equally as colonial as invading the country, setting up a new government, and changing the language and customs—are good intentioned NGOs doing exactly this, but now through culture?

Posted by Aralene Callahan at 08:08 PM | Comments (0)
Heritage - Nico's response
I was fascinated by this week's readings! Of particular interest to me is how the designation of places and cultural practices as "heritage" simultaneously acknowledges their unique value and propels them into this shared pool of jewels of supposed equal standard. By categorizing something, you give it value and limit it at the same time. This is so true of much in our society and is what helps us navigate the world intelligibly. It is reflected in the market forces that both celebrate the diversity of different types of music from the world yet group them under the term "world music". Categorizing enables us to understand the world in a way that is safe and that does not necessitate too much effort- a sort of set of cliffs notes for the world. This makes me think of the usage of language where words are used for so many different things, and I am sure we can rediscover much beauty just by choosing our words in a more careful and nuanced way.

The preservation of tangible heritage is evidently not a simple issue. In the case of Angkor Wat in Siem Rep (Cambodia) the city and temple receive much tourist income since its designation as a site of tangible heritage, however the volume of tourists is putting the very structure of the temple at risk- besides the fact that it is unclear whether this tourism income benefits the locals. The temple is experiencing a slow death after having been reborn from a previous death and will probably be reborn again as the site of where the temple once stood. First killed by the Khmer Rouge, then by the forces of the global capitalist market—what will kill it the next time? It seems that every time it dies it will increase in value, whatever that value is.
With regards to intangible heritage and living heritage, the concern here is that people and traditions become a museum of themselves. However, this designation often helps musicians for example get more recognition, more concerts and better fees. The National Endowment for the Arts has been awarding National Heritage Fellowship awards for the past 25 years "as a way of honoring American folk artists for their contributions to our national cultural mosaic" (from the NEA website). These honors put a lot of these people on the market- or back on the market- and can create tensions between them and other artists from the same tradition who have not received the award and feel that their contribution is as important. It creates within a culture a division between what is visible and what is invisible.
Perhaps what is needed is more of an integrated approach that recognizes a culture's tradition in the current world context. Doc Watson and Ralph Stanley can command high fees for concerts where they can exhibit Bluegrass music and unknowingly bring about nostalgia of a previous "Gemeischaft" (Tonies)- type American culture, but, from what I know, the Appalachian region of the US is one of the poorest in the country and that America of the past is not what America is like today. What about the other artists who perform Bluegrass, and how about addressing the economic reasons why this art form is almost gone? You could argue that this is not Doc's of Ralph's responsibility, and ask what it would change to know these things. I am not sure, but as we stop romanticizing the past- and the "other"- that were never that romantic in the first place, we can be more in tune with our world- better prepared to break down categories and more critical of the pervasive "feel good" factor. It could help us be more aware of intellectual property and more keen advocates for the protection of the vulnerable and under-protected. Let's consider the present as authentic. Sustainable tourism and cultural programming have big roles to play here.
Though I admire UNESCO for its work, it cannot- and we should not expect it to- solve all these issues alone. Projects like Place Matters for example enable people like you and me, and not high-ranking bureaucrats, to decide what matters in NYC- whether it is for their historic meaning, or for what they contribute directly today. It is a bottom-up approach that has been made more widely possible thanks to technology and seems more adapted and more representative of cultures in motion.

Posted by Nicolas Daswani at 06:33 PM | Comments (0)
Thoughts on Intangible Cultural Heritage, Martial Heritage
One of the more intriguing aspects of the "UNESCO Convention for the Safeguarding of the Intangible Cultural Heritage," is the tension its authors seem to develop/negotiate between preservation and development -- between recognition that 'heritage' refers to practices that are fluid and constantly changing, and the imperative to fix historical forms of those practices for future consumption. At the outset of the document, the authors include the fact of constant change in their definition of "Intangible Cultural Heritage," noting, "This intangible cultural heritage, transmitted from generation to generation, is constantly recreated by communities and groups in response to their environment, their interaction with nature and their history, and provides them with a sense of identity and continuity..." Here, it would appear that the organic, evolving nature of heritage is in large part also the source of that category's positive effects -- it is precisely the need to 'recreate' heritage from generation to generation that counter-intuitively produces a sense of 'continuity.' This tension between preservation and change becomes even more complicated when one notes the authors' additional charge to "Consider... the importance of the intangible cultural heritage as... a guarantee of sustainable development." In other words, the fixing of a given cultural production as 'heritage,' (limiting its potential for continued evolution and change, at least in theory) is seen as a prerequisite for national economic modernization. The price of entry into the first world is the museumization of national culture. Of course, once notions of safeguarding intangible heritage move from the printed page into the real world, I don't think there is indeed any real danger of organically changing cultural productions becoming fixed -- the entry of dances designed for ethnographers into the regular repertoires of Balinese dance troupes, or the curious evolution of 'Sweet Lullaby' that Steven Feld traces are just two examples that suggest 'safeguarding' might be an entirely inappropriate term in the context of heritage.
Thinking about definitions of heritage I was again reminded of the recently opened National Museum of the Marine Corps and Heritage Center. In this context, as appears implicit in the Marine Corps Heritage Foundation's Mission Statement, heritage appears to contain an expressly didactic element -- that is to say that the recognition of the activities of the Marine Corps as Heritage can play a role in transmitting the 'values' of the corps to a society at large. While the values listed all seem well and good ("industry, energy, integrity, determination, enthusiasm, justice, self-discipline, sacrifice, honor, courage and commitment"), I nonetheless bristle a bit at the suggestion that the US's war-making apparatus should help to define my "values." I suppose what I find most curious though is the ways in which such martial institutions or events come to be (or perhaps have always been) lumped together with cultural heritage in the realm of tourism -- I am thinking here of BKG's brief references to Gettysburg in "Destination Museum," or my own experiences in the ancient imperial city of Hue in Vietnam. In Hue, two narratives were on display to the tourist, the ancient architecture of the former imperial city reminding one of pre-colonial Vietnam, and the pockmarks and craters made on and amongst those buildings by bullets and bombs during the Vietnam War. There must be more than simple coincidence at work in the ways in which cultural heritage and military history often come into close contact within tourist productions, and I'd be curious to hear others thoughts on the subject.
Posted by James Ball at 05:19 PM | Comments (0)
When is heritage heritage?

'Heritage' is not simply inherited. This is a claim that draws on a rhethoric of legitimation. Rather, 'heritage' is constantly constituted and renewed (BKG, Destination Culture: 242)
If I inherit the tradition of dancing ballet from my mother, and she did from her mother, and there are many other people in the country who practice opera-singing but the cultural expression in itself did not originate in Bulgaria but was adopted at the turn of the 20th century – is opera singing then part of the Bulgarian cultural heritage? In Destination Culture, BKG analyzes a continuum of current heritage discourses, with the "preservationists" on the one end clinging to "pure roots" of tradition, and the dynamists, if I can so refer to them, embracing a constant movement of cultural innovations, fusions, and hybridization. It is, indeed, intriguing to compare how people at the local level think about heritage and at what point they "adopt" cultural practices as patrimony. The readings for this week made me realize how important it is for scholars to question more the definitions of immaterial heritage, as conceptualized in the UNESCO heritage instruments, and specifically explore what would be the mechanisms to adapt the notions of heritage to the newly emerging artistic forms and heritages (pop music, experimental theater, public space performance, digital media, etc.)?
These new art forms are spreading all over the world - in each discourse with their own particularities - and are becoming an integral part of the life-ways and identity particularly of the young people. To what extent, then, do we analyze a phenomenon as acculturation, and at what "tipping-point" does it become a new, modern art form belonging to the creative genius of a place and thus to is heritage creation? Do we still create heritage, or it is something – whether a thing or a practice - that, by definition, was created long time ago, by our ancestors, and is now subject only to slight changes. How much time should pass before heritage professionals consider a newly imported or "home-made" cultural product to be a. part of national heritage and b. recognized as world immaterial heritage due to the innovative hues it acquires in the new cultural ecology?
For example, at the community cultural centers (chitalishte) in Bulgaria people started doing Western-style theater at the turn of the 20th century, and by 2007 it has become an integral part of Bulgarian performance tradition, with local anecdotes, and humour, and social satire now inserting their Bulgarian stuffing into this culturally imported art form. Can we consider this heritage without it being a tradition? My observations at the Bulgarian chitalishte reveal how traditional folk dancing is practiced alongside with hip-hop dance, both experienced as elements of the young people's sense of self and belonging. We should then, perhaps, conceptualize two major complementary, and often interacting, elements within heritage: tradition and modern creations. Immaterial heritage might need to start incorporating the rapidly moving waves of global cultural dynamics, the fast pace of new art forms, especially in the sphere of digital art and information transmission, which I observed with amazement at the NYU International Symposium on Arts in Society this past week. After all, we all see, constantly, how bubbling local creativities transform global trends into place-specific "heritage" (or sometimes do not, when we talk about "homogenization" but even this process has a sift-like internalizing component).
It is interesting to study these concepts in the framework of the Bulgarian chialishte by looking at the Baltic case, since it presents a very similar cultural system. Estonia, Latvia, and Lithuania, just like Bulgaria, have national networks of community cultural centers, where local amateur singing, dancing and music groups come together to practice. The multi-national application is interesting to analyze - and especially having a vivid picture in my head of how this type of amateur groups functions in Bulgaria, which provides me with somewhat of a non-economic "comparative advantage," as in being able to compare similar socio-cultural structures.
The application states that one of the cultural expression's function is to provide "interactive communication framework for the community and its individual members through collective cultural expression," as it "plays a part in the development of civil society." Yet, I ask, what study has lead to these conclusions? What indicators – I guess the most immaterial ones possible – were used to measure the benefits of immaterial heritage enactments? It is clear that the statement was a direct and good response, but quite ungrounded, to the definition of heritage in Article 2 of the Convention on the Safeguarding of Immaterial Heritage:
This intangible cultural heritage, transmitted from generation to generation, is constantly recreated by communities and groups in response to their environment, their interaction with nature and their history, and provides them with a sense of identity and continuity, thus promoting respect for cultural diversity and human creativity.
Again, what kind of study can show us the social benefits of creativity? These are the questions I am facing as an anthropologists in studying community arts in Bulgaria and in Cuba, juggling in my hands the dilemma of what tools to apply to analyze and "show" arts' social role. Can we broadly say that immaterial heritage is beneficial, after anthropologists have studied such practices all over the world and described their logic and function?
I opened here many questions with many possibilities for answers! I hence look forward to us exchanging ideas in class!

Posted by Nadezhda Savova at 09:14 AM | Comments (0)
March 02, 2007
lets slowwwww down!!!
Dori Lubliner
Tourist Productions Blog Entry #5
March 2, 2007
In reading over the entire text of the UNESCO convention for the safeguarding of intangible cultural heritage, I was astounded by the complexity of the amendments and provisos incorporated into the documentation of the convention. Although they seem to cover all their bases from definitions to hierarchies, provisions and amendments, I wondered how this all functions in action. I turned to Feld's article, which suggests that there are slippages between what is officially claimed and what actually occurs regarding the protection of so-called intangible cultural heritage.
The purposes of the convention are labeled as follows: "a) to safeguard the intangible cultural heritage; b) to ensure respect for the intangible heritage of the communities, groups, and individuals concerned; c) to raise awareness at the local, national and international levels of the importance of the intangible cultural heritage, and of ensuring mutual appreciation thereof; d) to provide for international cooperation and assistance". What follows is an in depth categorizing of all the issues, which might arise under each of the provisions, including emergency situations, many forms of funding, and the various roles and responsibilities of involved parties.
I run into difficulty when I stop reading the documentation of the convention and start thinking about Steven Feld's article regarding an international "world music" (for lack of a more appropriate term) rights and ownership conflict. Feld brings to attention how difficult it is to "safeguard" the intangible when it comes to real life situations. UNESCO's convention seeks to represent those who have no representation and therefore are incapable of protecting the fruit of their cultures from colonial thievery. Although it seems like a good idea, how can an organization functioning under Western jurisdiction according to Western laws and ideologies actually claim to safeguard an intangible heritage (isn't that an oxymoron?) belonging to cultures who operate under fundamentally different social, political and ethical codes? I think that what Feld says about inclusiveness and international cooperation being solely based on colonialist terms is poignant and true. But how to escape from hegemonic heterogeneity? It is not as if UNESCO's convention is aimed at "reproducing primitivist representation and desire" but ultimately, as Feld's example of "Rorogwela" portrays, it is difficult to avoid.
Heritage is something personal. It is belonging to an individual or group of individuals through rite of birth and placement. Isn't all cultural heritage intangible, and if so, how can even the most sincerely intended attempts at safeguarding do anything but draw attention to yet another damaging side effect of globalization? Ultimately, even in such cases where direct violation of UNESCO protocol is proven, it becomes impossible to assess where the blame lies, who is responsible for compensation and how the victims can be protected from further cultural destruction. How are such things as "oral traditions and expressions, performing arts, social practices, rituals and festive events, knowledge and practices concerning nature and the universe, and traditional craftsmanship" to be safeguarded when even in academia and the arts, we are guilty of incorporating what is not our own for selfish means, be it prestige, success, wealth or otherwise? I guess my question (before reading the WIPO article) is, as Westerners, what is our role in grappling with the desire to be inclusive and represent the heritages of the world along side our own (multifaceted) privileged cultural heritage productions? Feld says that we all end up being complicit in the struggle with surging globalization and I think this is probably true. Maybe the very attempt at understanding (in the pejorative sense) another heritage is problematic, as we cannot hope to understand what we have never known, the knowledge being necessary to the ownership of any aspect of heritage.
Things have gotten out of control, even for the imperial powerhouse that is the West. The goal must now be transferred from prevention of the effects of globalization, which is obsolete, to slowing down the results of the globalization process so we might actually grab hold of the reigns of modernity once again. How to accomplish this daunting task…I have no idea, but Steven Feld really seems to be onto something. Perhaps discourse and dialogue is, as usual, the first step in inciting drastic change (or reversal as the case may be).
I didn't even get to talk about how tourism plays into all of this!!! Stay tuned. More to come upon my completion of the other two readings…
Posted by Dori Lubliner at 07:21 PM | Comments (0)
Posted by Nicolas Daswani at 04:35 PM | Comments (0)
Helping The Story Go On- John Dietrich
HELPING THE STORY GO ON- John Dietrich
Heritage. The idea seems simple: passing on a way of life or traditional culture from generation to generation. The actual role it plays, seems much more weighty. Caught up in a fight over ownership, definition and purpose, heritage has become a diplomatic player, acting as a tool to unite an entire culture, promote nationalism and advance diversity. There is no question about the importance of heritage to the growth of a society and culture, the difficulty is defining something that is considered a collective creation of a people and not an individual. In a time when ownership and copyright bring to mind legal battle, any boundaries placed on the ownership of a folk dance, or musical genre such as Kungu Opera seem impossible and are. In Steven Feld's article, "A Sweet Lullaby for World Music", the bottom line is that world music is a means of "celebrating and promoting the study of musical diversity". The controversy arises when a recording of a traditional African Folk Song is married against a contemporary pop backdrop. The two main issues here are ownership of the African Folk song recording and does this style of composition take away from the pureness of the original work? Does it begin to erase musical diversity and begin to homogenize the traditional performance for reasons of greater commercialization or promotion? For my money, what it does is introduce a particular cultural tradition to a much wider audience then it would ever have reached before. Sometimes the most valuable thing is simply the introduction to something new. So there is appreciation in both, the original and the new. Maybe, it will motivate the listener to seek out and find the original in a need to understand more and there lies the reward in that. Still the question and importance of authenticity exists and the safeguarding of that has equal significance. In today's world of globalization the key is acceptance by a broader audience, becoming a voice in a global community, perhaps to then have the power to bring greater awareness of something to that many more.
UNESCO, in its' attempt to help the story go on, or to define the need for Heritage preservation, creates a list of "Masterpieces of Oral and Intangible Heritage of Humanity". Naturally it is their need to know where to direct resources and assistance, that is clearly understandable. But defining the significance of preserving a specific form of heritage or tradition and not another, and on what grounds, makes the idea of labeling a particular "endangered" culture that much more daunting. In examples such as Kungu Opera the need is obvious. Here is an art form completely banned from society during the Cultural Revolution in China. Unless it is given rebirth and is reintroduced to the generations that completely missed it, it will not be a part of the continuous progression of that society. The preservation of the Song & Dance Traditions in the Baltic States is a perfect example of a heritage that played numerous roles in actual "nation-building". Under control of the Soviet Bloc, the people of these states were able to unify, to non-violently protest through song, to raise cultural self-esteem, to aspire to freedom, all of this due to embracing their heritage of celebration. It is the human way of uniting a country and that is one of the most valued consequences of heritage. After 9/11, nothing united America better, than the "Star-Spangled Banner" being sung at sporting events throughout that autumn. One people expressing their hope with one voice. WIPO acknowledges the fact that that it is impossible to universally categorize a means of protection, and that it is really a case-by-case situation. The important basis for each organization, UNESCO & WIPO, is distinguishing a culture in need, and determining a means of protection. There is no doubt that heritage preservation has many purposes. Economic advancement and opportunity for a culture can be equally valuable and is directly related to bringing a community a restored sense of identity, purpose and self-esteem. These organizations are an excellent means of insuring "appropriate" rediscovery, redevelopment and resurgence of the worlds' greatest treasure- its' people and their past.
Posted by John Dietrich at 11:46 AM | Comments (0)
March 01, 2007
Tourist invasion threatens to ruin glories of Angkor Wat - The Observer (U.K), Feb. 25, 07
Posted by Nicolas Daswani at 01:16 PM | Comments (0)
Pictures from Burkina Faso II
http://www.nyu.edu/classes/bkg/touristblog_07/archives/Photos.doc
Posted by Aralene Callahan at 12:18 PM | Comments (0)
A representative of my generation...
I just read the Onion article...
Perhaps I am merely a product of society and my generation—but I have trouble believing I am putting history into crisis mode by enjoying various musical samplings and clothing styles from the last four decades…
Really? Like…really??? "if current levels of U.S. retro consumption are allowed to continue unchecked, we may run entirely out of past by as soon as 2005…" Well, as of 2007, I do not feel as if we have "run out of past," but then again I am not an historian.
I am probably posting too quickly after reading this article, but my reactions to it were so strong, I feel like I have to indulge in potentially saying something uninformed by not reading everything first. I have taken note that the article was written in 1997, as in pre-9/11 as it has now become to be known, and a lot has changed culturally. However, here I am, wearing one of my mother's shirts from the sixties as I do on a regular basis, wondering if this act is aiding in destroying my country's cultural heritage…or maybe my mom had awesome fashion sense that is pretty enduring and clothes were made better then and didn't dissintegrate after one season of washing…
One of my father's claims to fame in our family is his ability to name the title and artist of any song played on his favorite oldies radio station (much to his chagrin, and my amusement, his new car's radio screen now posts the group/title and through technology, I am now able to foil his attempts to look savy…mwa ha ha!) I am not sure if my father falls into a category of prolonged nostalgia or not—granted, he does love his oldies and only occasionally mixes it up with smooth jazz or classical, but we have gotten him to throw in some Norah Jones and Dave Matthews Band. Is he nostalgic, stuck in his ways, or does he simply prefer a certain genre of music—and is that a bad thing?
I had considered the onslaught of mp3 players as potentially culturally cultivating simply because with a device that holds thousands of songs encourages the listener to be more adventurous with his/her musical samplings—with a cd or tape player, I may have had one or two modern albums with me—now, my little iPod carries Schubert, Edith Piaf, A Perfect Circle, The Beatles, The Violent Femmes, and a variety of other artists spanning decades and centuries…little did I know I wasn't simply listening to various types of music I happened to like, but that I was adding to a downward spiral of cultural sabotage!
If new styles are still being created, is it bad to appreciate the old stuff? I wonder what the authors of this article say today, ten years later? Culturally speaking is one thing, but socio-politically, I am definitely feeling some nostalgia for 1997…

Posted by Aralene Callahan at 12:04 PM | Comments (0)